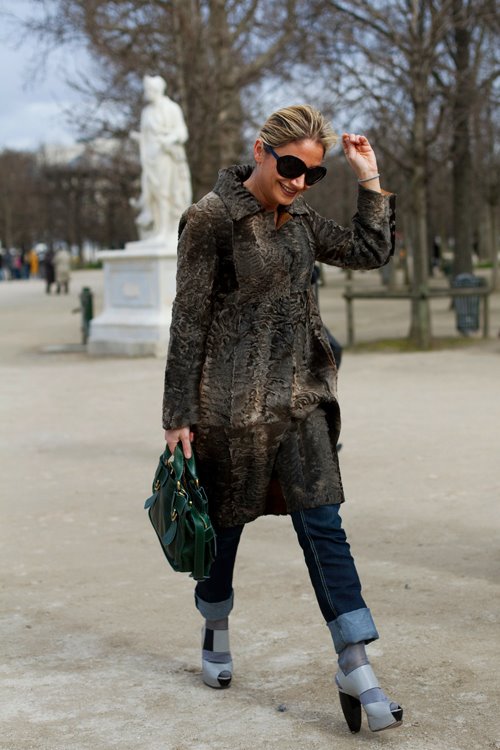 To go from Hit Or Miss to Glamazon, you gotta love just about everything in your closet.  May sound strange, but it's true.  To get to this point, you've go to figure out what your personal style is, plain and simple.  Here's the thing about personal style – it's just that, personal.  To get to the point where you love everything in your closet and the way it looks on you, you've got to do some work.  It's worth the time and effort, but it will take some time and effort.
Elevate Your Style Quotient – Morphing Into A Glamazon
The first step is to figure out which styles and shapes are most flattering to your shape.
For example, if you have a bit of a pouch, form-fitting dresses, tops and sweaters while definitely in this season (and most if we're perfectly honest) are not necessarily going to be your go-to items.  Shapewear can help you minimize a pouch no doubt, but shapewear may not be something you want to wear on a daily basis.  More flattering cuts would be A-line dresses, kimono-like blouses and tops or possibly even a wrap dress depending on the cut of the dress.
What's tricky about this first step is two-fold:  (1) Sometimes it's hard to be honest with yourself and (2) Figuring out what looks good is more than a notion.  Ask a trusted friend to come over and try on a few outfits to get his or her honest opinion.  Or, go to a department store and enlist the help of a salesperson as you try on some of the latest trends.  IGIGI has a great shape calculator that can help you determine the best styles for your figure.
As you try to determine what shapes are most flattering, remember that very few of us have the bodies clothing manufacturers are cutting for.  Don't despair, just make your tailor your new BFF and have your clothes altered to a perfect fit.  Small waist and a bit of junk in your trunk?  Buy slacks and jeans to accomodate your junk and then have the waist taken in.  Volia! A perfect fit in no time.
A great wardrobe is made up of quality classic pieces.
You've got a closet full of clothes and nothing to wear.  You must be crazy, right? No.  Most of us make the mistake of buying what's "IN" rather than building a wardrobe of classics that can transcend trends or incorporate trends.  Integrate trends into your wardrobe by buying one "IN" item or a few accessories each season as you grow or re-vamp your wardrobe.
Make sure your closet is stocked with The Classic 8:  (1) A dark suit; (2) A crisp white shirt; (3) A black wool or cashmere turtleneck; (4) A LBD; (5) A pair of dark jeans; (6) A trench coat; (7) A good pair of classic black heels; and (8) One item that makes your heart leap – an amazing coat like the woman pictured above, a FAB purse, or possibly a beautiful watch. Believe it or not, you have at least 2 weeks worth of outfits if you have just these 8 items.
Find designers and stores in your price range who make clothes that fit you well.
Morphing into A Glamour Goddess
Beauty is in the eye of the beholder.  Glamour Goddesses come in all shapes and sizes.  Sara Jessica Parker is Glamazon, but dont get it twisted, so is your colleague who is always well-put together and polished or the mom at drop-off who looks like she stepped out of a JCrew catalogue or right off of the page of the NYTimes SundayStyles.  A Glamour Goddess isn't defined as someone whose exploits are chronicled on Page 6 (although, she may very well be); she's simply someone who wears her clothes confidently.  This is easy for her to do because she loves everything in her closet; now getting dressed in the mornings or for an evening out on the town is easy.  She injects her personal style by choosing jewelry, handbags, scarves, totebags, shoes and belts that take her basic underlying wardrobe from classic to chic.
The Glamour Goddess in you is dying to come out, take the time this year to help her emerge!  I know Jada would . . .