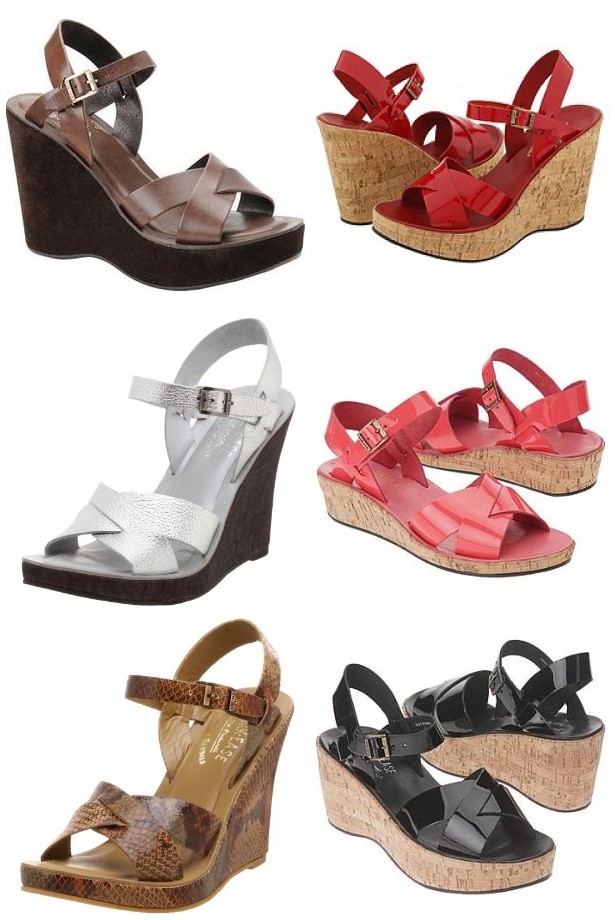 I'm on my feet a lot.  I run around the city meeting clients and I stroll the avenues looking for great finds and new trends; all of which involve a great deal of walking. I've been on a quest for comfortable yet good-looking shoes for about 3 years now.  I discovered Kork-Ease
wedge sandals about two years ago on a fine Spring day while shopping with a client.  We were on 34th Street in a shoe store looking for shoes to match an evening gown she'd just purchased.  It had been a long day. I was tired and my dogs were sho 'nuff barkin'.  I looked up from my client's feet and saw a suburban mom who was very well put together in a kind-of JCrew meets Martha Stewart kind of way. She had on these really cool patent leather kelly green wedge sandals.  They looked sooooo comfortable! As I was wistfully eyeing her shoes, she made a beeline over to me with a pair of sparkly heels in hand to ask my opinion. Interestingly, I get that a lot.  I wasn't doing anything overtly "stylist-like", I like to think that I look more stylish than most and one stylish person to another kind of karma was going on.  Anyway, she showed me the shoes and a picture of her daughter's prom dress.  She wanted to know if I thought they'd work together. She'd made a great choice and I told her so.
Then, I pounced!  I told her that I hoped her daughter knew how lucky she was to have a stylish mom she could trust to buy her prom shoes while she was off at soccer practice.  And then, I went in for the kill (now, what you must understand about me is that I would have found out about those patent leather green wedges before that lady left the store if it killed me, client shopping trip or not – that knowledge was going to have long lasting benefits not only for me, but for many) and inquired about her sandals.  She laughed and said, "They're the most comfortable shoe I own. I have them in every color.  They're a re-issue from a sandal that was really popular when I was in my 20s called Korkeeze."  I filed the name in my mental rolodex and went back to my client.
A few days later, my husband and I were leaving dinner on our way to the theater when I saw a woman, my age this time, with what I knew had to be a pair of those Korkeeze sandals (I didn't know the proper spelling at the time).  I stopped and asked her about them, she swore they were the most comfortable shoes she'd ever owned. Clearly, I was brain dead after my client shopping excursion because although my feet were throbbing when I got home, I promptly forgot all about Googling those sandals!  But, not this time.  I got home, sat down at the computer and bought myself a pair of Ava's in black patent leather.  They arrived just in time for a weekend trip to Miami.  I put them on and felt like I was walkin' on sunshine.  Soccer Mom was right, they were sooooo comfortable!  And, they looked really cool in a hipster meets Palm Beach kind of way.  The best part?  They gave me a little height – I'm short with hips so I need a heel to help balance my proportions out – but at no cost to my comfort.  Remember my stylish friend Mia?  She saw me with my Ava's on and promptly went out and bought a pair.
Believe it or not, Kork-Ease, is the original platform wedge sandal that all the hipsters were wearing back in the day.  The first pair were created in Brooklyn in 1953 and they're been immortalized in the Metropolitan Museum of Art's Landmark Shoe Collection.  An honor only bestowed to 25 styles of footwear. The best wedge known to womankind.  I kid you not.
[Prices range from $90-$135, from left to right: Bette, Bette, Shannon, Myrna, Shannon and Ava]