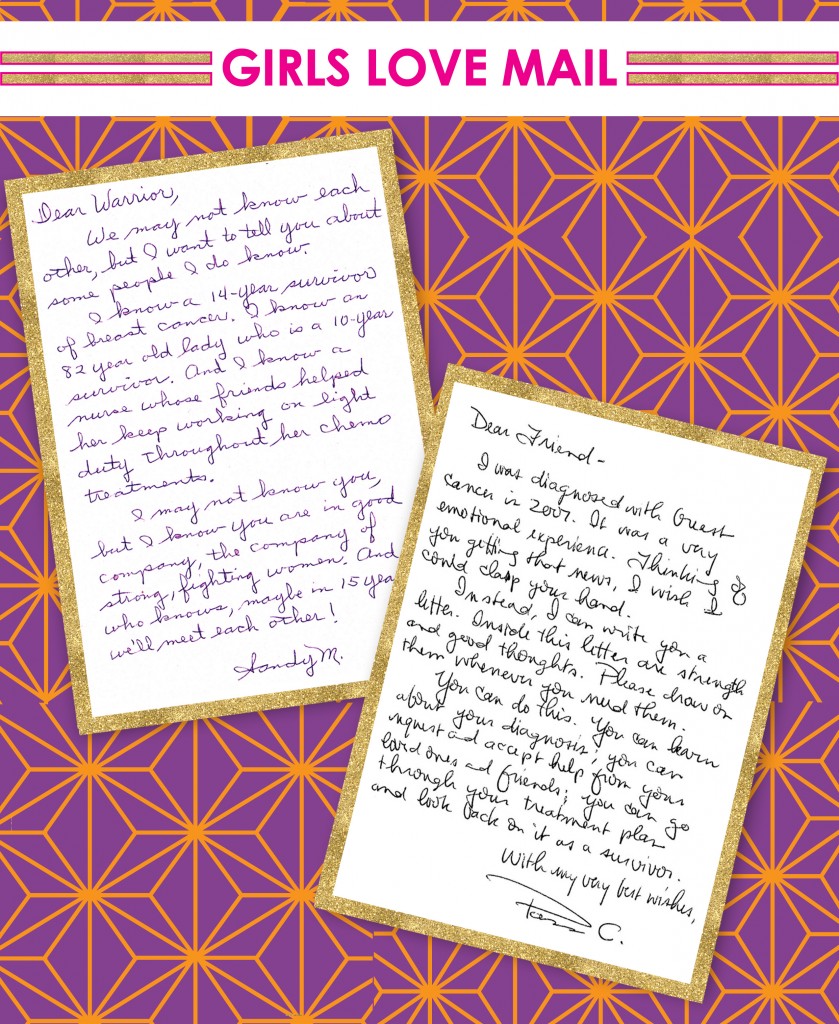 Breast cancer will, if it hasn't already, touch all of our lives. You may be personally affected by it, or you may know breast cancer survivors, women who are currently battling the disease or possibly women who succumbed to it. Look to your left and then look to your right, most likely one of the women in your vicinity is dealing with breast cancer in one way shape or form – it might be her own battle, her mother's, her sister's, aunt's or friend's. Early detection is key. Self-exams and mammograms are our armor. Encourage your friends and family members to do monthly self-exams, to schedule routine mammograms and to TALK about their experiences – the good, the bad and the ugly. Breast cancer is the private reality of many many women.
A positive attitude, love and encouragement are the battle weapons often used successfully by breast cancer warriors. Join us this month (and hopefully for many months to come) by participating in the MILE of MAIL campaign launched by Girls Love Mail.  The goal is to send 5,280 letters of encouragement to women newly diagnosed with breast cancer in 2012. It's simple – take 10 minutes out of your day to write from the heart to encourage someone to keep her head up and her spirits high.  Enlist your friends and kids to join you in this heartwarming endeavor.  To learn more about Girl's Love Mail and what to write, click
here
.
 Drop your letter in the mail to the address below and GLM does the rest for you!
Girls Love Mail
2330 E. Bidwell Street, Suite 200
Folsom, California 95630