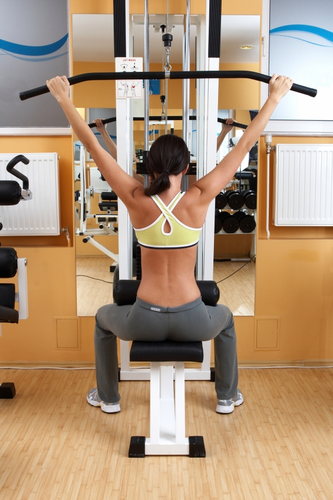 If working out on a regular basis is one of your New Year's resolutions, you're not alone.  Every January, gym memberships peek as people come off of their holiday highs hoping to drop a few lbs before swimsuit season hits again.  Making the resolution is easy, following through on it is the challenge.
Crazy as this may sound, I always feel better about dragging myself out of bed to walk to the gym on dark cold mornings if I know that, while I may be a tad bit out of shape, my workout clothes are slammin'!  (For the record, James, my instructor at Physique 57, said I was his best-dressed student, what he was too nice to say is that I'm probably the least coordinated!  But I digress).  Working out in old t-shirts and ratty sweats doesn't do it for me.  Some might argue that it doesn't matter what you workout in just as long as you workout.  Agreed.  All I'm saying is that it's much easier to get myself to the gym if I'm in workout gear that makes me feel good.
Workout clothes don't have to cost you an arm and a leg – although I have seen some pretty FAB gear that I've just had to walk away from before I convinced myself that I would be able to run longer and faster on the treadmill if I wore it.  Now, I can be a little cheap when it comes to work out clothes; this is an area where I'm definitely looking for a bargain.  Truth be told, I've purchased my fair share of workout clothes from Equinox because in my haste to get there, I left a vital piece at home (um, shorts for example).  So, to balance those pricey purchases, I shop for workout gear at my favorite discount stores - Marshall's, TJ Maxx and Target. Black is slimming, or so they say, so much of my workout wardrobe consists of black items with pops of color here and there. This also makes it very easy to get dressed while I'm half asleep because just about everything goes together so I don't have to put thought into looking good, I just have to get to the gym.  And if I fall off the wagon, I don't feel badly about having wasted money on expensive workout clothes . . .
Now, if none of this is your cup of tea, our friends on the other side of the pond conducted a study found shopping to be healthy exercise – we burn 5 calories for every minute of shopping (who knew?!?!).  So, rather than go to the gym, grab your purse and your best shopping bud and head to the nearest mall to burn off those extra lbs!
[image from WellSphere]