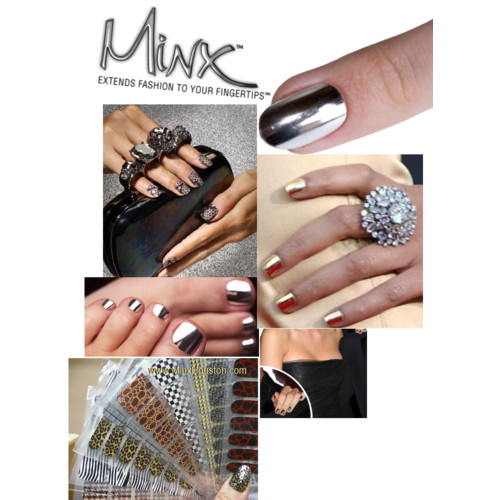 My friend Cass spends a good chunk of time in LA and somehow is always one step ahead of the curve on the latest trends before they reach me here in New York. Two years ago it when she came back to New York from an extended sojourn to the West Coast, she'd stumbled upon the most magnificant air-brushed manicure I'd ever seen. Not that airbrushing at nail salons is a new concept, it's just that the way it was done that was sooooo cool.  She promised we'd make a lunch date to get our nails air-brushed (she'd found a similar spot she wanted to try out in Harlem), but life got in the way and we never made it.
Long story short, before I can get this air-brushed thing done, she tells me that we need to get a
Minx
manicure instead. Now, if your guilty pleasure is reading material focused on our nation's pop culture, you know, magazines like
Ok!
,
InTouch
, or
People
you've probably heard of Minx.  Me?  My guilty pleasures take the form of tv shows like
Big Love
,
The Tudors
,
Project Runway
and
The Real Housewives
(I know, I hate to admit it), so the only minxes I was aware of were sly, flirtatious girls a la
Holly Golightly
. Clearly, I didn't have a clue.  And then, I got my chance. I was at the
IFB conference
during
Fashion Week
in February and I got a free
Minx
manicure (high demand and limited time meant that attendees could only get 1 nail Minx-ed, but it's also where I discovered my latest nail polish obsession,
Black Diamond
, plus did I mention it was free?!?!?!).
I've since learned that a Minx manicure is what all the cool fashion insiders are vying for . . . Remember when OPI came out with "Lincoln Park After Dark"?  It's such a dark purple that it almost looks black and you weren't sure if it was really the right color for you?  But, you stepped up to the plate about 6 months after the trend started and now it's just about the only color you use on your nails.  Well, Minx is kind of like that.  It seems a little over the top at first, maybe a little dramatic, might be too much for the office kind of thing and then your stylish friend shows up at work with a Minx manicure and you start to get a little envious. She didn't choose one of the wilder patterns, she went with the subtle snakeskin (hard to believe snakeskin can be subtle, right? but somehow on her it looks fantastic).  So, you start peppering her with questions over lunch:
You: How long will it last?
Her: They said 4 -8 days . . . I had them done on Saturday, it's Monday and they're still stuck on. No chipping to worry about.
You: Stuck on? No chiping? How exactly does it work? Do they glue the stuff to your nails? Is it safe?
Her: I dont know really, it seemed pretty simple. It's almost like a sticker or a decal, they stick it on your finger and then you put your hand under a heat lamp.
You: Hmm … it almost sounds too good to be true. How long did you have to sit under the nail dryer?
Her: I dunno, maybe about 30 minutes while she was applying them to my nails. My dryer time was during the actual manicure.
You: Aren't you afraid it will mess up your nails when you take them off?
Her: No, there was no glue and there weren't any fumes or anything. The manicurist said I should warm my nails under running water and then use one of those stick things they use to peel it off from one side to the other. I remember she said not to peel it from front to back cuz it messes up your nail fibers or something. It sounded simple enough.
You: That's all? Wow . . .
And then the wheels start churning … No extra time under the dryer, no chipped nails, less worry about protecting your manicure . . . And before you know it, you start to covet one of those manicures for yourself. It happens. There's no shame in your game. And hey, imitation really is the sincerest form of flattery. So, you decide that maybe being a little bit of a minx isnt such a bad idea after all . . .
Fifi Nail Salon has been kind enough to offer my readers a free Minx manicure.  Let your inner minx out, tell me why you should win a free Minx manicure.  Eligibility is simple – you must be an email subscriber to Possess Your STYLE and live in New York or plan to be in New York between now and June 2010.  If you haven't  subscribed to PYS yet, simply click on the "subscribe to Possess Your STYLE by email" button towards the top of the column on the right and follow the directions (you'll receive an email in your inbox with a link to click on to complete your subscription) – et volia!   All comments should be submitted by Friday, March 19, 2010 and the winner will be announced on Saturday, March 20th.
You little Minx you!
As far as I know, Minx is only available through certified nail technicians. The average price for a manicure ranges from $45 to $65 and between $65 to $85 for a pedicure.
[images courtesy of Minx & Polyvore]