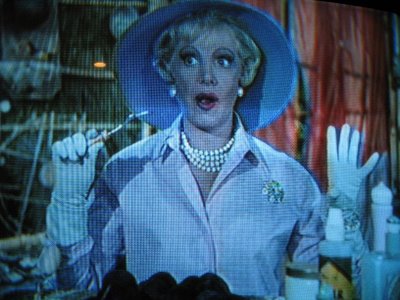 A few weeks ago over lunch, Ellen, my financial planner informed me that she'd just started wearing jeans again when I told her about my post on jeggings.  El said that this was the first time she's worn jeans in she can't remember when.  So pray-tell, what made her start wearing jeans again? Get this, my financial planner, is a singer in an 80′s cover band.  Quiet as it's kept, she did admit that she might be going through a slight mid-life crisis.  But hey, we should all be so lucky to go through a mid-life crisis and be able to carry enough of a tune to front a band!
Anyway, she wore chinos to her first gig and her friends just about laughed her attire off of the stage.  She said it never occured to her to wear jeans to a gig because she suffers from Mrs. Howell Syndrome (her phraseology, not mine, but one I may have to swipe!).  Why had she eschewed the most versatile article of clothing there is? (Thank you very much Mr. Strauss
!)  Her answer? She suffers from Mrs. Howell Syndrome.
Let me refresh your recollection.  Eunice "Lovey" Wentworth Howell, Mrs. Thurston Bailey Howell, III, played with aplomb by Natalie Schafer, and her husband were two of the castaways on Gilligan's Island.  The show's premise was simple: the two-man crew of the charter boat S. S. Minnow took five passengers on a "three-hour tour", they ran into a tropical storm and they were shipwrecked on an uncharted island somewhere in the Pacific Ocean. Even though she was stranded on a deserted island, Mrs. Howell managed to look put together (her pearls were always in place) and ready for a cocktail party or luncheon at a moment's notice.
Still not exactly sure what Mrs. Howell Syndrome is?  Let me put it like this, you might suffer from Mrs. Howell Syndrome if nine times out of ten your attire is nicer than that of most of the people at work, at a dinner party, at your nephew's christening and the list goes on.  As much as I'm loathe to admit it, I think I may suffer a tad-bit from Mrs. Howell Syndrome.  I didn't know there was a name for it until Ellen clued me in, but I have been accused of being overdressed on occassion. My husband is the one who usually points this out to me as we're heading out the door:
Him: Do you think your outfit is a little over the top?  We're just going to X.
Me: No.  I like my outfit.  I think it's perfectly appropriate for tonight.
Him: Ok, I'm just saying . . . You might want to put on a lower heel or something to tone it down a bit.
Me: No, I'm good. (Then of course I begin to question my choice once we're in the cab when it's too late to change!)
I'm fortunate, I live in New York.  So, however over the top I might be, and I admit that there are some nights when I am definitely the Mrs. Howell in the crowd, there's usually someone who's right in line with me if not a few steps ahead.
Personally, I don't think there's anything wrong with channeling your inner Mrs. Howell every now again.  As Coco Chanel said, "A girl should be two things: classy and fabulous!" I couldn't agree more.
[image courtesy of United Artists Television]