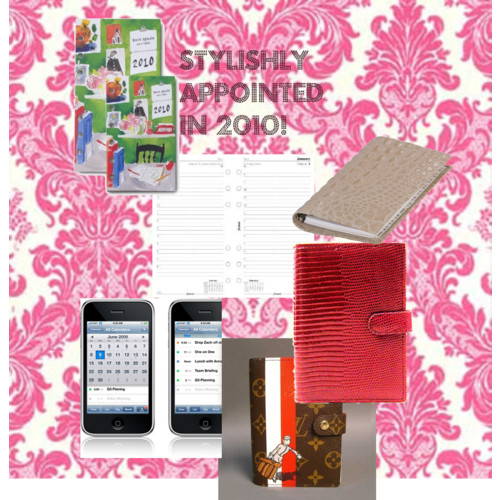 You thought this posting was going to be about the fashion trends for 2010, jeggings perhaps?  We'll get to those later on this year . . . With the beginning of the new year comes the opportunity to start fresh.  Staying on top of appointments, lunch and dinner dates, not to mention vacation time should be relatively easy with all of the computerized calendars out there now – OutLook, iGoogle, My Yahoo! and all of the others I'm not familiar with – right?  Well, if you're like me with a laptop, a Blackberry and now an iTouch you have no excuse for missing an appointment or showing up late for an important meeting.
I'm happy to report that 2009 was a great year for me, but it was definitely a hectic one.  Historically, I'm a paperwhore and typically I've managed my life from my home datebook in tandem with my portable one (yes, I'm a little anal) but like I said 2009 was a bit hectic and I began to rely on whichever electronic device was most handy.  The beginning of my end.  It was great to type an appointment in, it wasn't so great to have my device ring at me shortly before the appointment I'd completely forgotten about because I failed to mentally note it. Instead of going in one ear and out the other, it got typed in and then mentally deleted. After a few of these mis-haps it dawned on me that while we're in the midst of the information age, and I gladly tote around all of these cool gadgets with their bells and whistles, I'm a paper person at heart.  I need to open my planner each morning and see what my day looks like in my own handwriting.  So, to kick-off the new year, I have refills for my desk datebook and my portable one.  I know, I want to be environmentally responsible, but I also want to be on time!  Come join me on the wild side.
Tell me – are you paper or electronic?