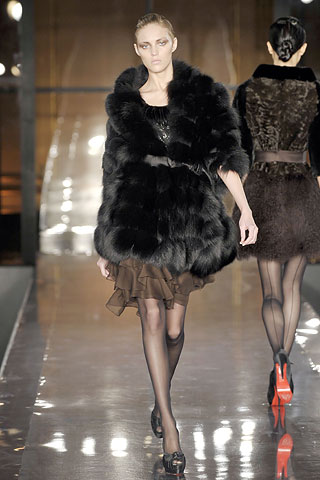 I'm obsessed with fur.  Plain and simple.  Have been since I was a little girl growing up in Bloomfield Hills, Michigan.  I remember going to Dittrich Furs with my mom as she amassed a nice little collection of furs – there was the silver 3/4-length mink wrap coat with the notched lapels (I loved the coat, she had a great pair of silvery-grey high-heeled boots she wore with it – Mom, where is that coat?!?!?!); the racoon jacket that she'd wear during the week when she drove my dad's Corvette and look oh so chic; and then the beaver full length coat for those really really cold Michigan winters. I think her love of fur was a direct result of my grandmother's love affair with fur – it runs in the family (my Aunt Kay had a fur fetish too, I was lucky enough to inherit all of her furs when she moved to Florida).
My mother initiated me into all things fur when I was 20.  I was home from college for Thanksgiving; we were at Dittrich's picking up her furs.  There was a great full-length opposum coat on sale. Perfect for a young lady my mom said.  So, it became mine.  I loved that coat.  I've now passed my first real fur on to one of my young friends, she's been initiated into the way of all things fur.  It was the least I could do.
Now, let's be clear – I love all kinds of fur – faux, vintage, new – I don't discriminate.  Yes,  I'm aware of the ethical issues and I've worked those out for myself.  If you have issues with fur, you do and you're not alone.  I'm not writing this posting to convince anyone to drink my particular brand of koolaid on this point. However, I am writing it because wearing fur, faux or real, is a luxurious experience.  This season the retail industry has done a bang-up job of providing those who don't believe in fur, along with those whose bank accounts may not ready for fur, with a plethora of fabulous options.  The folks at TopShop get STYLEpoints  for having the most penny-saving stylish faux furs out there this season – Kate Moss has designed her butt off. H&M, Tory Burch, and Rebecca Taylor are on the bandwagon too.
So, if you're on the fence – try a faux fur.  If you've been hankerin' after a real fur but weren't sure of the direction to head in – go for it!  Any questions about what to buy, where and how?  Shoot me an email.
Be FURablous this Winter!
[image from Style.com]