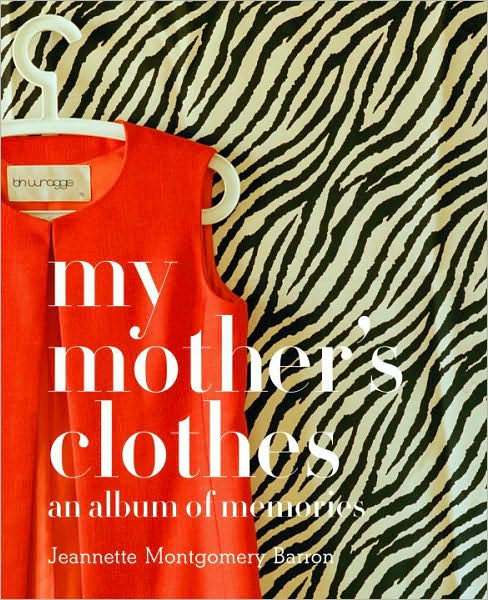 I inherited my sense of style from my maternal grandmother, Mrs. Effie Hayes. She was one of those stylish church ladies who moved up North from the South eons ago.  When she went "out" (which was not to be mistaken with just going to the grocery store or some other mundane task), she always wore bright red lipstick, a slip and/or camisole regardless of how warm it was outside and her sensible heels. At all times, she had a pressed hankie in her pocketbook that was nestled in the crook of her arm and some sort of hat stylishly cocked on her head.  Women and men alike always talked about how stylish Mizz Hayes was.
My grandmother passed away almost 13 years ago, but she still holds a very dear spot in my heart and mind.  When I came across this book, My Mother's Clothes, by Jeanette Montgomery Barron, I was reminded of my grandmother and her stylish ways.  The book is an homage to Ms. Barron's mother who suffered from Alzheimer's.  As her mother began to decline, Ms. Barron realized that the one way to bring the woman she knew back to her former self was to tag along as her mother went through her closet.  So Ms. Barron, a photographer, catalogued the garments in her mother's closet pictorially so that her mother could easily flip through and relive precious moments.  The photographs in My Mother's Clothes are beautiful and help to bring to mind the vibrancy of the woman who must have worn them.
While my grandmother (who maybe weighed 105 pounds soaking wet) was about far more than the clothes she wore, as I'm sure Ms. Barron's mother was too, her commanding presence was always highlighted by the way she was dressed.