Long live the macaron!
I've always liked French macarons, but now I'm a bit obsessed with them. The French macaron differs from what we traditionally think of as macaroons; they are very light sandwich like cookies filled with cream or butter and can be found in a wide variety of flavors. I love the way they taste, but I'm a sucker for how visually appealing they are too.
So, we get to Paris and on my list of things to eat/drink are a Cafe Creme, a Croque Madame and macarons.  On Day 2 while having my second Croque Madame (I was hellbent on finding the best one in the city) at a bistro recommended to us by our concierge (it was just ok, so the bistro shall remain nameless), people kept walking by with little white bags that said Pierre Hermé on them.  Inevitably, as they walked past our table, they began pulling out the most scrumptious looking macarons.  Disappointing Croque Madame No. 2 finished, we exit the bistro in search of this Pierre Hermé.  It was literally two doors away from us at 185 Rue de Vaugirard. (In case it's not obvious, we kind of ate our way through Paris  . . . I mean come on, it's Paris! Great wine and fantastic food, the word diet became a 4-letter word).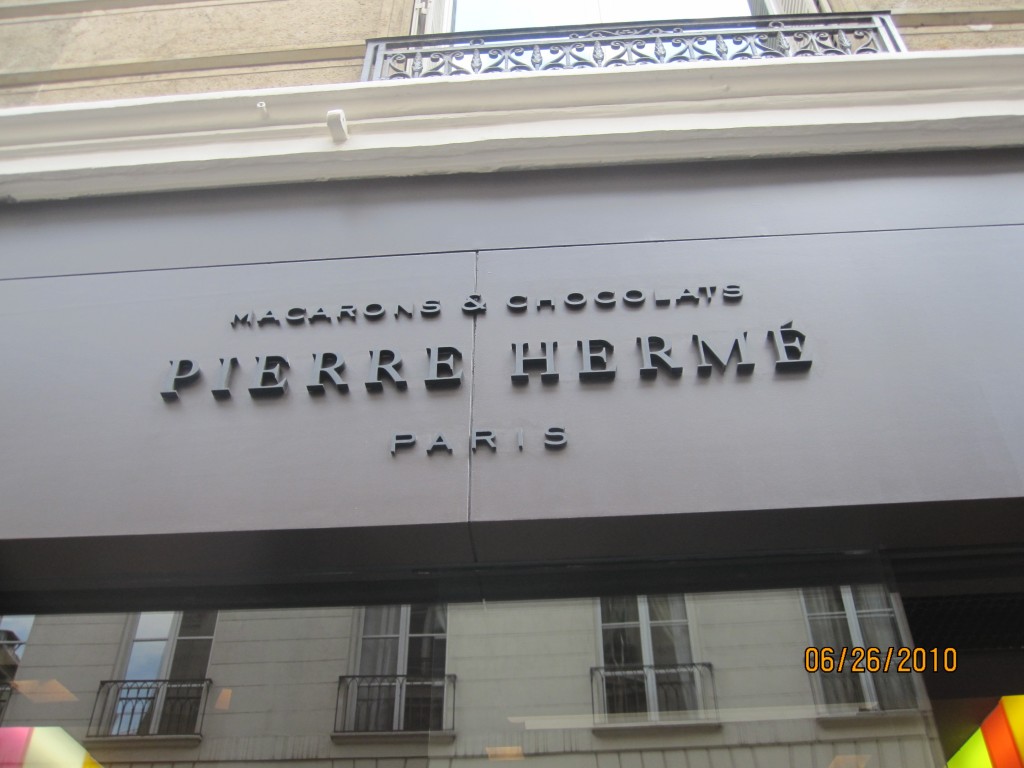 LUXE lists Pierre Hermé as one of their standout stores, they describe it as "mmmelt-in-the-mmmouth mmmacarons" and they were right!  It was melt in your mouth deliciousness that just made me want to move to Paris right then and there, but at about 225 calories a pop I probably need to keep my behind right in New York where temptation isn't around every corner.
Caloric count in check, my macaron hunt sated, I was good.  That is until the next day when our friends Eun Hwa and Olivier took us to their favorite patisserie in St. Germain de Prés, Gérard Mulot.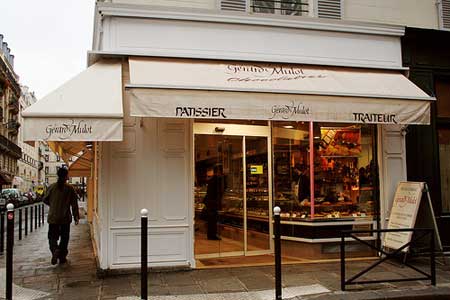 We couldn't be rude, right?  Who cares if each macaron is 225 calories?!!?!  Each was 225 sumputous calories of some of the best confections I've ever had.  And, I mean you only live once, right?  Eun Hwa filled up a lovely gift box for us to take home on the plane.  Finger. Lickin'. Good!
Now, we did not make it to Ladurée, which has a reputation as being the best macaron shop in the world.  On my next trip to Paris, I will have to make it by to sample their delights.  For the time being, I'm still savoring the memory of the macarons we had.  My favorite flavor was caramel with sea salt. To. DIE. For.
Don't 'cha want one right now?  . . .
P.S. If you watch Gossip Girl, which I do not, look for Ladurée to make an appearance this Fall when the girls from The Constance Billard School for Girls head to Paris.