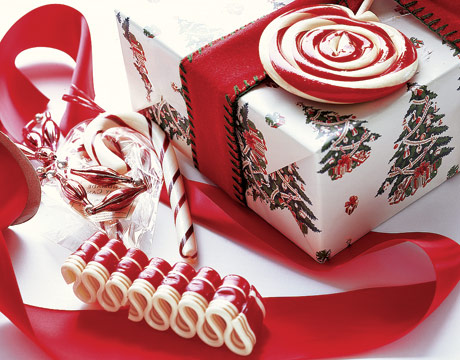 Although the economy is reportedly re-bounding, many of us are still conserving cash this holiday season which means that there may not be as many gifts under the Christmas tree on Friday.  Just because it may take less time and effort to undress the tree, doesn't mean that the gifts underneath it shouldn't be stylishly wrapped – make the presentation worthy of the present!  Think of it this way, creative gift wrap is an opportunity to express both yourself and how much the recipient means to you.
Go Green – Use all of your paper leftover from past years; to unify the presents use the same color bows and ribbons on each gift.  Or, gather those Whole Foods bags you've stashed away or the newspapers that have piled up.
Color Coordinate – If starting from scratch, buy a few rolls of a patterned paper along with a solid color that coordinates with the pattern.  Find bows and ribbon in a contrasting color.
Layer  Coordinating Papers – Mix and match patterns, colors, and textures. When wrapping your gift, begin with one pattern, then run a band of complementary paper around the center. Finish with a velvet ribbon for added texture.
Go Graphic – Don't limit yourself to using papers with holiday motifs and colors.  Try mixing in nontraditional graphic designs that you can use year around.
If you're looking for interesting, unique and beautiful gift wrapping paper, check out a few of these sites:  Cavallini & Co., Kate's Paperie, and Pikku Wares.
A beautifully wrapped present heightens fun and anticipation!
Happy Holidays!!!
[image from Country Living]