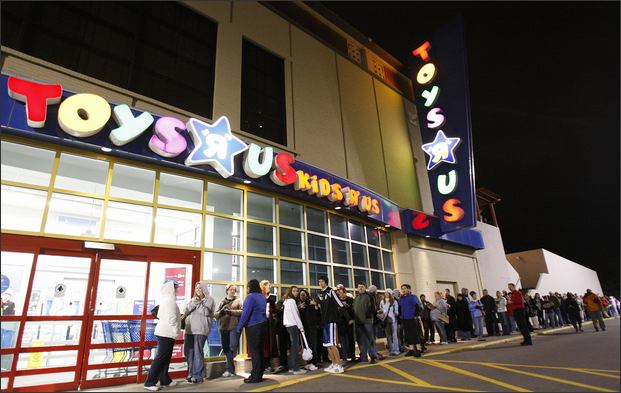 What is it about Thanksgiving that puts Americans in the mood for shopping? Shopping the day after Thanksgiving on Black Friday is as ingrained in us as the watching the Superbowl on the  1st Sunday in February.  And this year is no exception.  Black Friday falls on November 27th this year and it is the official kick-off of the holiday shopping season!
The term Black Friday was coined in Philadelphia by the Philadelphia Police Department in reference to the massive traffic jams and overcrowded sidewalks on the day after Thanksgiving. While often touted as the busiest shopping day of the year, retailers' profits don't always match the long lines snaked around their stores and parking lots.
This year, however, some of the big box stores have already begun to offer their Black Friday deals in anticipation of trumping one another.  Sears began it's Black Friday sales in October – go figure.  It's not clear if this pre-emptive move got folks in the store spending money or not, it's too soon to tell.  Target has been advertising that it's Black Friday deals will be lower than ever and allows shoppers to sign up on line for shopping reminders.
2009 Black Friday Special Deals
This year look for travel deals, particularly in the form of vacation packages from various airlines and hotel chains.  The doorbusters are the same as usual – 52″ TVs and laptops at major savings from stores like BestBuy, WalMart, KMart, you know the usual suspects.  If you're looking for deals on higher end brand items, check to see if the Simon Outlet Mall closest to you opens at midnight on Thanksgiving.  If so, take a nap after dinner and plan to get there by 11pm at the latest to find a parking space and queue up for some of the best deals you're going to find during the holiday season.
Cyber Monday
However, if the crowds and all the drama are too much for you, not to worry, Cyber Monday was created just for you!  You can bypass the Black Friday sales entirely and wait until you're back in your office on Monday to kick-off your holiday shopping spree from your computer with no lines, hassle, or stress. Cyber Monday is to Black Friday what yin is to yang. So, if the stress of Thanksgiving dinner is all you can handle this weekend, no worries. There will be deals galore on Cyber Monday.  Check out sites like CouponCabin and RetailMeNot to find out about even more special offers and bargains before you let your fingers do the typing.
Holiday Shopping Tips:
Know your budget;
Create a list of who you're buying gifts for, how much you plan to spend on each recipient, and what you'd like to get for each one;
Come up with a shopping strategy so that you maximize your time at the mall or online;
Keep your list with you while shopping so that you can check off your purchases as you go; and
Keep all of your holiday receipts in the same envelope.  And, remember to ask for gift receipts.
Happy Shopping!