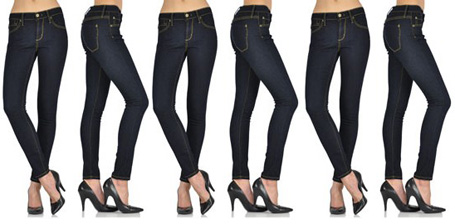 After a recent couples trip to Las Vegas, my sister called to tell me that she'd bought her first pair of skinny jeans.  I know, shopping in Vegas?  But what happens in Vegas stays in Vegas  . . . Anyway, so glad she moved from  boot cut to skinny! But, what about these jeggings you keep hearing about?  What's the difference?  Is there one?  I must admit, I love my skinny jeans but now I'm smitten by the jeggings craze.
Skinny jeans are just that, skinny.  They're totally in right now, skinny is the silhouette of the moment.  Jeggings just take skinny to the next level.  Jeggings are simply jeans + leggings.  What I love about jeggings is that you get all the comfort of leggings, but none of the casualness that plagues leggings.  Jeggings may seem like the province of the young and rail thin, but think again.  If you're not a toothpick and you often do all sorts of maneuvers to get your jeans up over your thighs (if you've ever had to do a squat to get a pair of jeans on you fall into this camp), believe it or not jeggings may be for you.  Why? Because jegging fabric is much more forgiving than the denim used to make skinny jeans (jeggings have 5 -7% lyrca/spandex compared to 1-3% in skinny jeans).  And, believe it or not, the Denim gods are smiling on those of us with butts, hips and thighs – jeggings actually have a higher waist which can help to give a more flattering slimming effect.  (Hint: They suck you in in all the right places).
Ready to give jeggings a try?  Check out Cookie Johnson's new line. Yes,  Cookie Johnson, Magic Johnson's wife.  She started her denim line, Cj, because she couldn't find a pair of jeans with a perfect fit (i.e., no calestentics required and properly covers her B,H & Ts).  What's cool about Cj's is that the back of the waistband is lined with silk, no more rough material rubbing against your backside, the back comes up higher than most designer jeans but the front are still low-rise and the back pockets are smaller than the size of your fist which helps to minimize the derriere.  And the best thing?  They range in size from 2 – 18.  Oprah swears that they're the best jeans for real women with curves. Cj Joy Jegging -$110.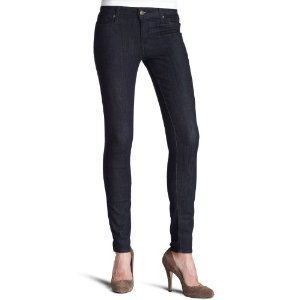 Not into jeggings, but ready to go skinny minny?  Cj has a skinny pair for you, Cj Faith jeans – $112 (pictured below left), and so does Not Your Daughter's Jeans. NYD Jeans come with a special Lift Tuck technology that they swear will make you a full size smaller.  Hey, I'm all about illusions! Not Your Daughter's Jeans Straight Leg – $88 (pictured below right).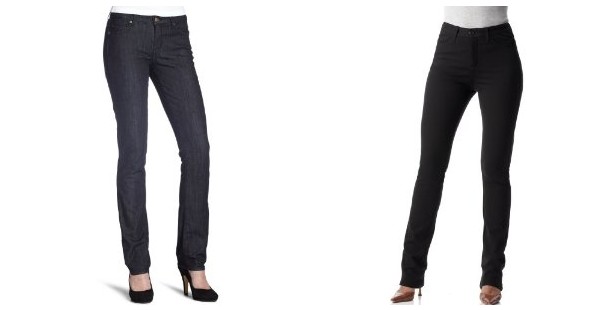 And if this skinny nonsense is offending your sensabilities and you're a true boot cut girl, here are a few pair of classic boot cut jeans that will look good on just about everyone.  Cj's Grace Boot Cut Jean – $112, NYD's Boot Cut Jeans- $98 and Paige Premium Denim's Laurel Canyon Jean -$179.

The most important thing to remember when buying a pair of jeans is that the darker the denim, the slimmer you will look.  Just a little tip from me to you.  But, I LOVE crisp white jeans in the Summertime!  I also love to hear from you, please take a moment to tell me which brand of denim is your favorite and why.