Bored with the clothes in your closet?
Tired of trying to merge the worlds of corporate life and fashion?
Do you dream of feeling hip & chic 24/7?
Fret no more, break out of your style rut and learn to how to make your corporate wardrobe fashionable with the Little Purple Book of STYLE as your guide.
One of the goals of  STYLE by Kalyn Johnson is to help professionals successfully navigate office fashion politics. Prior to becoming a stylist, Kalyn worked for ten years as a corporate attorney at a large international law firm. Over the course of her ten-year legal career, she was disappointed to see that many of the professionals she came into contact with were not dressing to maximize their workplace potential.  Moreover, every year she saw throngs of highly educated individuals entering the legal workforce well-trained but ill-prepared for the rigors of dressing in a professional environment.  Isaac Bashevis Singer, the 1978 Nobel Peace Prize Winner (Literature), stated the obvious when he said, "[w]hat strange power there is in clothing."
Now, more than ever, it is important for professionals to make the right first impression.  The Little Purple Book of STYLE will help you assess your wardrobe and provide simple tips to help you integrate your personal style into your corporate wardrobe.
"I graduated from Harvard last year and found The Little Purple Book of STYLE extremely valuable in my transition from college to the world of investment banking. The Little Purple Book of STYLE is a fantastic quick primer on dressing in today's workplace for young professionals." - Alexis Cepeda Maule
"I graduated from law school more than 10 years ago, but have struggled with feeling professional and stylish in the workplace.  Kalyn's Little Purple Book of STYLE helped me to bridge the gap.  I wish I'd had it 10 years ago when I started practicing." – Jennifer Turner
For bulk orders, please send an email to: info@kalynjohnson.com
Let The Little Purple Book of STYLE
guide you to a better wardrobe!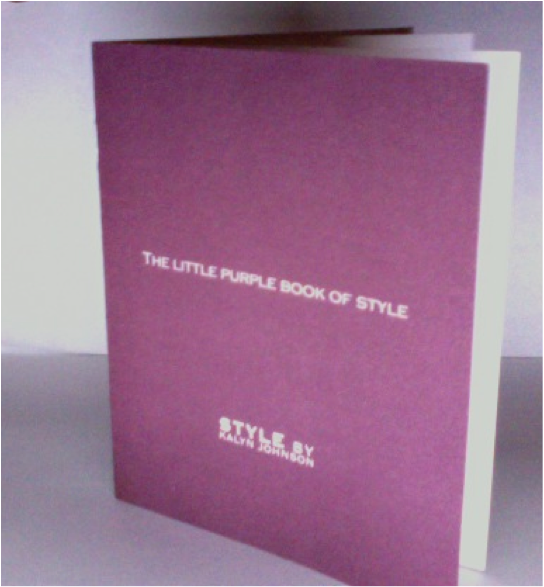 Purchase your Little Purple Book of STYLE Today!
Little Purple Book of STYLE
Price: $8.00
[wp_cart:Little Purple Book of STYLE:price:8.00:end]
Your STYLE checkout will appear on this page after you select "add to STYLE Cart"