Archive for the 'Things That Make My Heart Leap!' Category
I love shopping bags! I don't know why.  Well maybe I do.  It's the simplicity of the design. The colors of some of my favorite stores with their iconic logos emblazoned across them are like sirens that call to me. My husband calls me the Bag Lady when he's not cursing my bad habit of saving shopping bags that tend to clutter our myriad storage spaces.  I can't help it.  It's so much more fun to carry your lunch or that extra pair of shoes in an Hermès or Bendel's bag then a brown kraft bag, don't you think?  When I stumbled upon this image, it spoke to me. One day when I'm no longer running effie's paper from home and you stop by my office to say hello, expect to see some of my most favorite shopping bags hanging as artwork.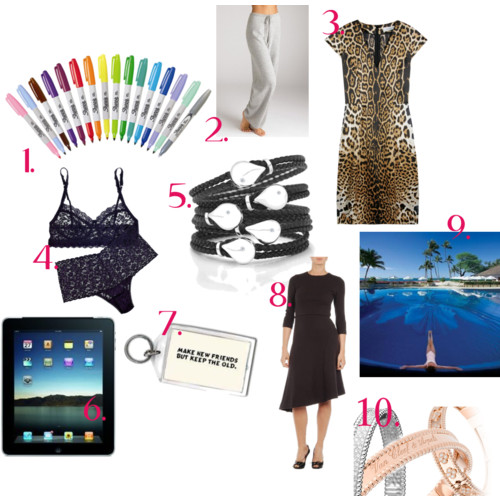 It's hard to believe that 2011 is around the corner!  I don't know about you, but it seems like  2010 has flown by . . . Although it's been a hectic year, I still managed to find the time to find a few items to fall in love with over the course of the past 12 months.
Sharpie Fine Point markers are the perfect writing utensil.  Now they come in a rainbow of colors now and I use them for everything!
I can't get enough cashmere – lounge pants, leggings, cargo pants, sweaters, eye masks – if it comes in cashmere, I've gotta have it.
I admit it, I have fallen deeply head over heels in L.O.V.E. with Yves Saint Laurent. YSL makes me feel chic & elegant. Shoes. Handbags. Apparel. I'm smitten.
The comfortable and sensuous underpinnings from Hanky Panky.
The partnership between Kwiat and charity:water that resulted in the Diamond Waterdrop Bracelet. Kwiat is giving 100% of its profits from the sale of these bracelets ($100 a pop) to fund charity: water.
My iPad! Believe the hype.
I've made some lovely new friends this past year; as I reflect on my frienships, I'm reminded of the song, "Make new friends, but keep the old. One is silver and the other's gold."
You can never have too many LBDs; Jil Sander is my new go-to dress designer.
In between working with individuals, writing blog posts and starting effie's paper, I did a bit of jetsetting this year.  I traveled to some amazing places and stayed at some wonderful hotels; I really enjoyed myself immensely at all of them, but I must admit that I fell a little bit harder for one than the others,  The Halekulani in Honolulu.
I'm dreaming about Van Cleef and Arpel's Perlée Collection bracelets.  I think my wrist would look so lovely with one of these on my arm. A girl can dream can't she?  And if you're going to dream it might as well be on the caviar and champagne level, no?
Anyway, these are a few of my favorite things from 2010.  I have big plans for 2011 and I'm excited to see how the new year is going to unfold.  I wish each of you much success, happiness, love and lots of wonderful treats in 2011!
Stylishly yours,
Kalyn