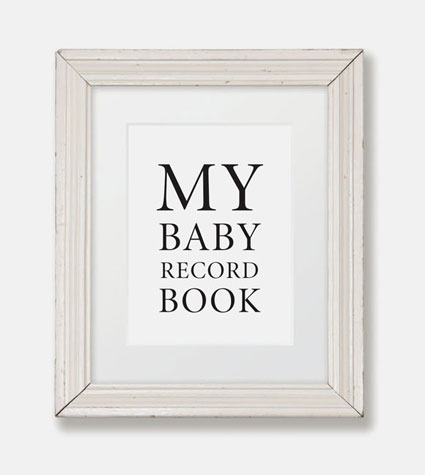 Every week, I share a bit of my own little story.  And dear readers, you're each kind enough to indulge me. I've loved personal stories since I was a little girl.  I wanted to know things like how my parents met, where my grandparents grew up and what my parents were like when they were children.  As an adult, I love to watch tv shows like A&E Biography
and James Lipton's Inside The Actors Studio.  We each have our own personal story and some of us are lucky enough to have parents who chronicled our lives laboriously; others of us aren't so lucky (if you fall into this category, it's likely you were not a firstborn).
For those of you with children, you know how important it is to try to chronicle your child's milestones.  You have every intention of doing it, but somehow life gets in the way . . . especially as Baby No. 2 arrives.  For those of you not yet in the parent trap, not planning to get caught in the parent trap or for the auntie or uncle to many, you were a kid once and asked your parents a thousand times for details about your childhood.  If you are the eldest, there may be some sort of memory book.  Mine is by Dr. Seuss's, it's called My Book About Me.
Today we live in the age of iPads, iTouches and crackberries . . . what better way to record your child's milestone's than to do it online?  Kristin Coons, mother of 3, has created unique approach to recording your child's most precious moments.  She's created a Milestone Memory System on her website, My Own Little Story; a completely free service that reminds you, via email, to record milestones and narratives of your child's life.  It sounds like a great idea to me, non-parent that I am, for today's tech savvy parents. However, I did ask a few new moms to road-test My Own Little Story; those who responded said they thought it was great, but weren't sure they'd make the time to respond to the email reminders.  Parents, godparents, aunts, uncles and grandparents – My Own Little Story could be one of the best gifts you give to your little one.  Check it out.