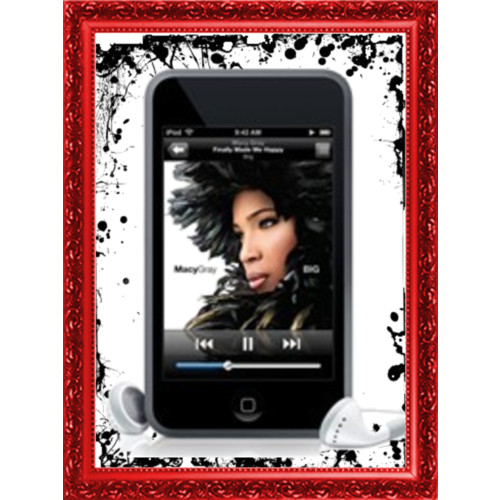 I am thrilled to be guest-posting about my musical tastes here on Kalyn's blog! My name is Kat Griffin, and I run a blog called Corporette.
I like to think I have fashionable, modern takes on classic, work-appropriate fashion — but how does that relate to my music taste? Well, read on…
I'm a child of the 60s, 70s, 80s, 90s, the millennium — choose the decade and add a sentence or two of relevant commentary you'd like. Sadly, I'm a child of the 80s! As a child I loved Madonna, Cyndi Lauper, and Tina Turner. In my early teens I got into Peter Gabriel, Talking Heads, Kate Bush — I think a lot of it is called "art rock" — as well as Tori Amos, and in my college years I discovered PJ Harvey, The Smiths, and so forth. These days I also love listening to Lady Gaga, Matson Jones, the Yeah Yeah Yeahs, and Florence and the Machine.
Your all time favorite song? For the all-time jam: probably "Running Up That Hill" by Kate Bush.
Your all time favorite artist? Peter Gabriel. I kind of consider it a form of meditation to listen to his 1982 album from beginning to end, on headphones, while doing nothing else — it's the only album I've ever done that for. (The album was his fourth self-titled one, but had the label "Security" slapped on it in America.)
What does your taste in music say about your personal style? I'm not sure there's a correlation. Some of the music I like is weird and artsy (e.g., Peter Gabriel). Some of it's kind of goofy with this darkness underlying it (Talking Heads, Laurie Anderson). Some of it is just silly romance stuff with a powerful beat (Madonna, Lady Gaga). And some of it is kind of harder edged rock or pop. I think there is a correlation between my jewelry taste and my musical taste — some of my favorite pieces for play are big, a bit harder edged — a ring I got from Metal Pointu's in Paris (pictured below) or a necklace from Jill Platner (also below). When I was in San Francisco years ago I got a great cuff/bracelet that was basically made from a man's tie — I seem to have lost that now, alas. Some of my other pieces are a bit silly — a red and orange ring where the pieces are individual and stick up a bit, or a red leather cutout necklace.
Favorite Pandora station? You know, I always create my own based on whatever song I'm craving at the moment. I have an entire station based around this random song that I really liked from a movie, "Buddha's Delight" — okay movie ("Music and Lyrics," I think) but loved that song!
Who do you listen to to unwind? I have an "unwind" mix with 300 some songs on it. It's everything from Nina Simone to Lhasa de Sala to Pat Benatar to Simon & Garfunkel.
Who's on your inner playlist? Depends on the day and the mood!
What song do you hear in your head when you know you're looking good? "A Girl Like You" by Edwyn Collins. I think I got that one from a movie soundtrack, but when I was single I always wanted a guy who felt like he'd never met a girl like me before. (I'm happily married, so I think I got one!)
Who was your biggest influence in terms of your musical taste? Peter Gabriel, honestly. I found him because I had this teacher who, when I was 13, was one of the only adults I trusted, and he let me borrow his Peter Gabriel tape. It's a long story, but the brief version: I was in a Very Bad Mood after piano lessons one day, and he taught guitar lessons at the same place so this teacher happened to be around. Him: What are you listening to? Me: Appetite for Destruction. Him: Oh-kay. Why don't you give this tape a try instead? And that was how I found my favorite album to this day ("Security", mentioned above). This was pre-Internet, so I would secretly get more Gabriel CDs out of the library and started reading more about him. I learned that he was often grouped with Talking Heads and Kate Bush, so I learned more about them. Laurie Anderson appeared on his 1986 album "So," so I listened to her and found I liked her. I even found one of my favorite poems because he wrote a song about it (Mercy Street), so I looked up the original (45 Mercy Street), by Anne Sexton.

You have a chance to win American Idol, what song do you sing? "I Will Survive," by Gloria Gaynor. It's my go-to song that I sing in the shower if I'm doing a hair mask or something that has to sit a while. I also love trying to sing along to Florence & The Machine's "Girl With One Eye" — but I'd need a lot of practice to perform that one in public!
Thanks for sharing your inner playlist with us Kat!