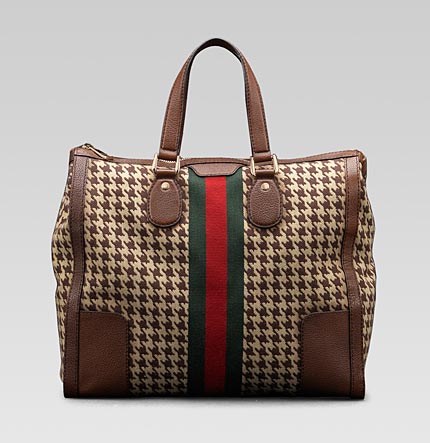 I'm headed to South Carolina for a week of frockling at the beach, eating great food and hanging out with good friends.  Recently, every time I get ready to go out of town, I've had a carry-on bag dilemma.  To say that I'm addicted to YSL's Easy Bag is an understatement.  While it is a fantastic Ladies Who Lunch bag, as my husband calls it, it is not a great tote bag for travel.  Why? Because it's really a purse and not a tote.  See, it's almost too big a purse to sight-see with, it's usually too big to take to dinner and I certainly don't want random people bumping into it on the train in New York, much less a metropolis I'm seeing for the first time (can I get an amen here?).  The solution?  This Gucci "70′s tote" – yes, it fuels my Disco Fever! – I can put my laptop, ipad and other essentials in here along with a smaller purse that I can pull out when I get to my destination.
Nope, this bag isn't traveling with me to South Carolina because I don't own it yet . . . a girl can dream though!
So, what's your carry-on secret?
[image courtesy of Gucci]