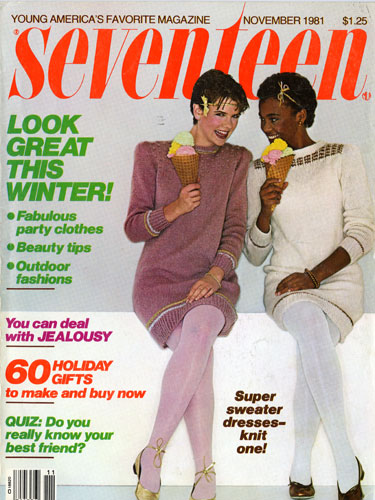 I think that New York Fashion Week ended a week ago today.  As much as I love clothes, I must admit that I've never been big on "fashion".  I've often wondered why I feel this way; there always seemed to be a disconnect.  While I couldn't articulate it coherently to anyone who cared to listen to me wax on about style vs. fashion, it all became crystal clear when I read an article written by Robin Givhan in New York Magazine's fashion edition last week called Why Fashion Keeps Tripping Over Race: The Paint Chip Problem Revisited. I won't bore you by trying to re-cap the article here, click on the link and read it for yourself.  I'd love to know what you think.
That said, I loved clothes as a child!  I came from family of stylish ladies and I couldn't wait to be just like them with their fur coats and beautiful high-heeled matching boots, leather shoe bags (it snows in Michigan so you have to bring your shoes with you) and handbags.  But when I looked in fashion magazines, I rarely saw models who looked like us.  I wanted to love Seventeen magazine and Young Miss (I know, I'm dating myself, do forgive me!), but there was something missing. Then lo and behold, the black beauty above started appearing in Seventeen magazine spreads. I could relate to her.  She even had short hair like many of my friends and I.  Because she was the lone black model of my teenage years, I knew who Whitney Houston was long before she became famous for wanting to dance with somebody.  Her appearance in Seventeen magazine made fashion seem a little more relevant to me personally. But, then I graduated to Glamour and Marie Claire. And, like Seventeen they'd have one or two models who looked like me in every other fashion spread; slowly but surely the allure of "fashion" waned for me.  I just didn't see myself standing in a studio with my hair wind-blown in some high fashion get-up; therefore, the idea of purchasing the clothes featured or other pieces by the designers featured in the photo shoots wasn't my ideal.
Now this was all very subliminal.  And, as much as I'm writing this article within the context of race, I would have to imagine that this very same truth rings like a clarion bell for short women, plus size women and any woman of any hue who does not fit into the tiny box of Super Model.  I couldn't have articulated any of this as a teenager, but I can now and that's why I am. Of course I have friends who went in the very opposite direction and bought every expensive designer they, or their credit cards, could afford to prove they were and should be a part of the conversation. Neither is wrong and neither is right. It's just the world we live in. So, back to my point.  I like fashion, hell I write about – and covet – things in the fashion world regularly.  However, what I love is style.  One can be stylish and not have on a stick of expensive fashion designer duds.  So dear readers, enjoy fashion to your hearts' content, but please be sure to celebrate you and remember to Possess Your STYLE!