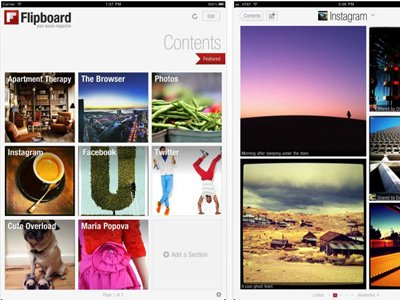 I swear I don't own stock in Apple!  But, boy I sure wish I did.  For those of you who have iPads, listen up. For those of you who love reading magazines, iPad or not, Flipboard may be for you.  Flipboard is one of the coolest apps I've come across – it aggregates content based on your interests, reading habits and web links from your social circle (i.e., FaceBook and Twitter) and displays them in a slick, magazine-like layout on your iPad. You literally drag your finger across your iPad as if you're flipping the page of a magazine et volia! Within seconds of uploading the app, you're breezing through your favorite magazines, blogs (of course you'd upload Possess Your STYLE, yes that's a shameless plug!) and newspapers.  Not to mention the fact that it makes it easy to feed your FaceBook addiction by presenting FaceBook in such an original way that you may chuck your computer aside.  The guru's behind Flipboard, Mike McCue and Evan Doll, use technology to present breathtaking photos and an amazing use of white space that's literally taken the digital world by storm in the short year Flipboard has been around.
Lots of magazines have jumped onboard, I betcha JCrew will be one of the first clothing companies to put it's catalogue on Flipboard.
I've flipped for Flipboard – it's stylishly hip to be stylishly flip!
[photo courtesy of Flipboard]