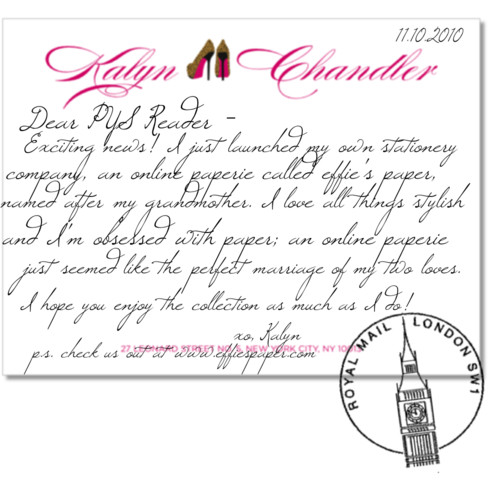 "Dear PYS Reader -
Exciting news!  I just launched my own stationery company, an online paperie called effie's paper, named after my grandmother.  I love all things stylish and I'm obsessed with paper; an online paperie just seemed like the perfect marriage of my two loves.
I hope you love the collection as much as I do!
xo, Kalyn
p.s. check us out at www.effiespaper.com"
Please take a moment to check out my debut collections - THE URBANITE, GREEK CHORUS and IT'S SOCIAL – and tell me what you think. Conceiving, creating and launching effie's paper in 4 months has made my life just a bit crazy, but believe it or not, my creative juices are still flowing and I'm already thinking about my next collection, THE JETSETTER.  The only thing better than receiving a hand-written note in the mail is having the perfect stationery to use to send notes to friends and loved ones!  I have gifted personalized note-cards to many friends and loved ones over the years; they really do make great holiday, hostess, and birthday gifts.  And honestly, I've believed since I was a little girl (thanks to the influence of my grandmother, Mrs. Effie Hayes) that everyone should have personalized social stationery for the purpose of writing thank you notes, sending condolences or just spreading a little sunshine every now and again!
To experience the collections first-hand, please visit our on-line paperie at www.effiespaper.com. Use the code EPVIP from now until November 30, 2010 to receive 10% off all stationery orders.
And yes, just in case you were wondering, in my personal life I'm Mrs. Chandler.