Did you know that your footwear of choice says a lot about who you are?  According to shoe expert Meghan Cleary, your "Shoe Sign" is as important as your Sun Sign.  Meghan believes that the type of shoe that a woman wears can indicate her taste in clothing, her career goals and even her ideal mate.  While all of this may be a little tounge-in-cheek, Meghan's expertise when it comes to shoe trends is spot on.  She's a world renown footwear authority who's just as comfortable on the red carpet talking to celebrities about their favorite shoes to hangin' out in the shoe salon at Bergdorf's dishing with salesmen about their most popular shoes. Meghan's new book Shoe are You? may help you gain some insight into your shoe-personality.  I think I'm a Towering Heights (my mother attributes this to my Napoleon complex).
Why shoes? I became obsessed with shoes when I was five years old. I found a pair of baby blue wedge espadrille sandals with embroidery at KMART and insisted that I have them!
One word to describe Shoe Are You? Fun.
What was the original vision and goal for Shoe Are You? I wanted to get across my proprietary philosophy that shoes are the most essential fashion item– because they are the only thing we put on that have a physiological impact on the way we walk, carry ourselves and stand — they affect our moods, reflect our moods and have the power to change our moods.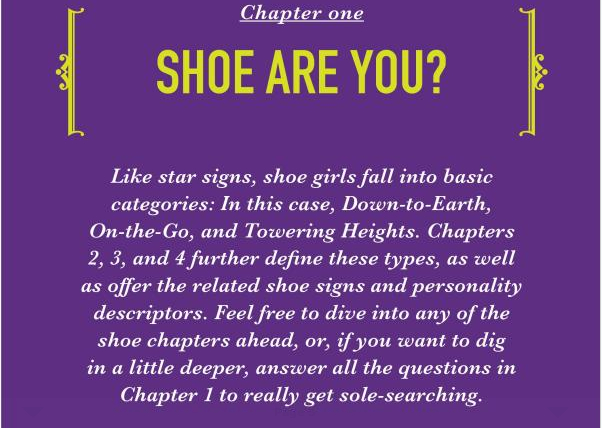 How are you different from other noted footwear authorities? There really are not any other footwear authorities that cover what I cover. When I started about six years ago I was the only one and there are a ton of copycats out there now which is the best form of flattery to be imitated! I have written hundreds of articles about footwear for everyone from Time Out to Marie Claire, interviewed designers from around the world, sat in Italian footwear studios with designers to learn about the entire process from stylista to modelista and back, discovered numerous emerging footwear designers, been in shoe factories, studied lasts + heels, interviewed celebrities on the red carpet about their shoes, reported on shoe trends everywhere from Extra! to E!, written two books about shoes, had a show on HSN called Shoe Therapy (R) (C) where we broadcasted live 45 hours into more than 80 million homes, had the highest selling footwear item ever in the history of SHOPNBC in the capsule collection I did for them, received a special commendation from the Italian Footwear Manufacturer's Association and produced their first ever social media campaign, had my first book translated into Croatian, traveled around the world in the name of shoes, was a consulting producer on the feature documentary God Save My Shoes, get called on by everyone from CNN to MSNBC to talk about shoes and cultural trends . . .
Describe your your job for those of us who'd love to be shoe experts, but aren't quite sure what exactly it means. See my response above! Basically the thing that drives me most is passion and curiosity. I let those two things drive me and they really take me everywhere I want to go with footwear and everything else in life. A Wall Street marketing background doesn't hurt to have in my pocket either.
Where do you hope to see yourself 10 years from now? I'd like to have my content creation and production company Miss Meghan Media still going strong and maybe branch out into apparel/general fashion.
Any sage advice for people with similar aspirations? Do what you love and tell everyone you know about what you love and why you want to do it. You'd be surprised at how many people will help you along the way.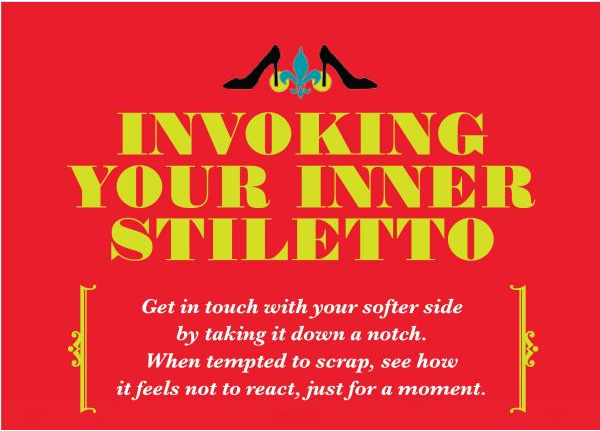 Was there a Plan B? Not really. I have done marketing since I was 19, creative writing since I was 10, and I have loved shoes since I was five. I can't really think of a better combination for all that than what I am doing now.
One wish for Shoe Are you? I hope that when people read it they get a big dose of fun, love and insight.
Now let's get personal . . .
First major splurge? Mauve Taffeta Jimmy Choos with antique Turquoise brooch
What would those close to you say is your favorite personal item to wear? A silk slip – wear them under every dress/skirt
Which one item do you transport from handbag to handbag? Burt's Bees Lip Balm
Silver or Gold? Gold
Flats or Heels? Heels
Gloss or Lipstick? Gloss
PC or Mac? MAC!
Books or Magazines? Books
Favorite TV show? So many! Top Gear, Modern Family, and I love documentaries
Favorite city to visit? Rome
So, what are you waiting for?  Pick up a copy of Shoe are You? for yourself or your BFF and do a little sole-searching!