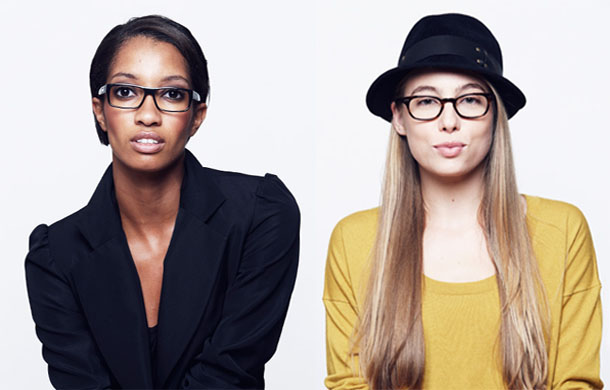 On Monday I was in the airport trying to read the Departures screen and no matter how hard I squinted, things just weren't coming into focus.  Once through TSA, I was in line to order food but I really couldn't read the sign until I was up at the register and even then I was having a hard time.  Once I got my food and sat down it hit me.  I am Une Femme d'Un Certain Age and one of the perks! of this categorization is compromised eye-sight.  Fortunately for me, I learned about Warby Parker at the top of the year and am in possession of some very cool vintage-inspired frames.  Yes, I go to the eye doctor yearly and have had a prescription for nearsightedness since I was a teenager, but I didn't really need to wear my glasses unless I was tired or driving at night.
What a difference a pair of glasses make! Yesterday I arrived at the airport armed with my glasses on and lo and behold I had no trouble reading anything.  No s*&# Sherlock, right?  Well, yes and no.  Vanity had to take a back seat this time.  So, if you too are a UFDCA and have been avoiding the obvious or if you are sensible and know you need glasses or contacts in order to be able to function but haven't found frames that speak to your heart check out Warby Parker.  WP is a funky little online boutique offering vintage-inspired frames at the amazingly low price of $95.  Yup, $95 for the frame plus your prescription!
Buy eyeglasses online? Sure, why not?  You buy just about everything else online, right?  WP is the brainchild of four Wharton Business School graduates, who decided to step outside of the box.  You can upload your picture to their website and try frames on virtually or your can choose 5 pairs to try on in the privacy of your own home and they will send them to you for free.  They've got 27 frames handcrafted from cellulose acetate to choose from in 10 different colors like tortoise and amber.  Oh, and now they've got sunglasses too. Mabel is calling my name!  And the best part, aside from looking very hip and cool in your new frames, is that for each pair of glasses purchased, a pair is given to someone through WP's "Buy A Pair, Give A Pair" program.  Life in focus is soooo much better!
[image courtesy of Warby Parker]