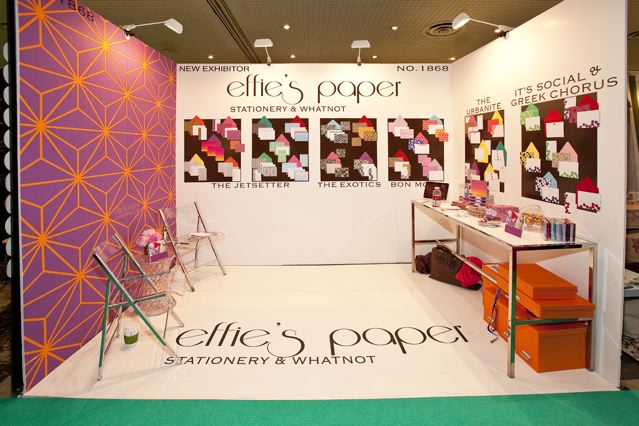 The last couple of months have been a blur as Team effie's paper prepared for the National Stationery Show.  When I declared in February that effie's paper was going to be an exhibitor at NSS, I had absolutely no idea about all that is involved to create a mini-showroom to exhibit our products at our first ever trade show.  If I knew then what I know now, I dare say I may have pushed things off until 2012.  But, they say that God helps fools and babies.  I clearly do not fal into the latter category, but I must admit -at times – I felt like I fell smack dab into the former!
Back in February when I made this decision, I had just hired the fabulous website design folks at Ashay Media Group to give the effie's paper website a facelift.  I had a definite idea of how I wanted the site to look and feel and thank goodness Cherise TrahanMiller is a mind-reader, because she got me immediately. She and her team created a beautiful platform for my litte paperie!
As the faceelift got underway, we were putting the finishing touches on THE JETSETTER collection and then I began designing THE EXOTICS collection.  There was soooo much to do and soooo little time …. I wanted the booth for NSS to have the look and feel of our new website.  In a brainstorming session, my friend Coco from Cococozy came up with the idea of blowing up one of the designs to use as wallpaper on one side of the booth.  Once that inspiration hit, I knew exactly how I wanted the booth to look, but I wasn't exactly sure how to get what I had in my head on paper and to the booth construction folks.  And then, along came my wonderful assistant, Erika.  I explained to her how I envisioned the booth and she, being the artist that she is (no wonder she has a BFA and I don't!) made renderings using this great free 3-D design tool called Google Sketch-Up.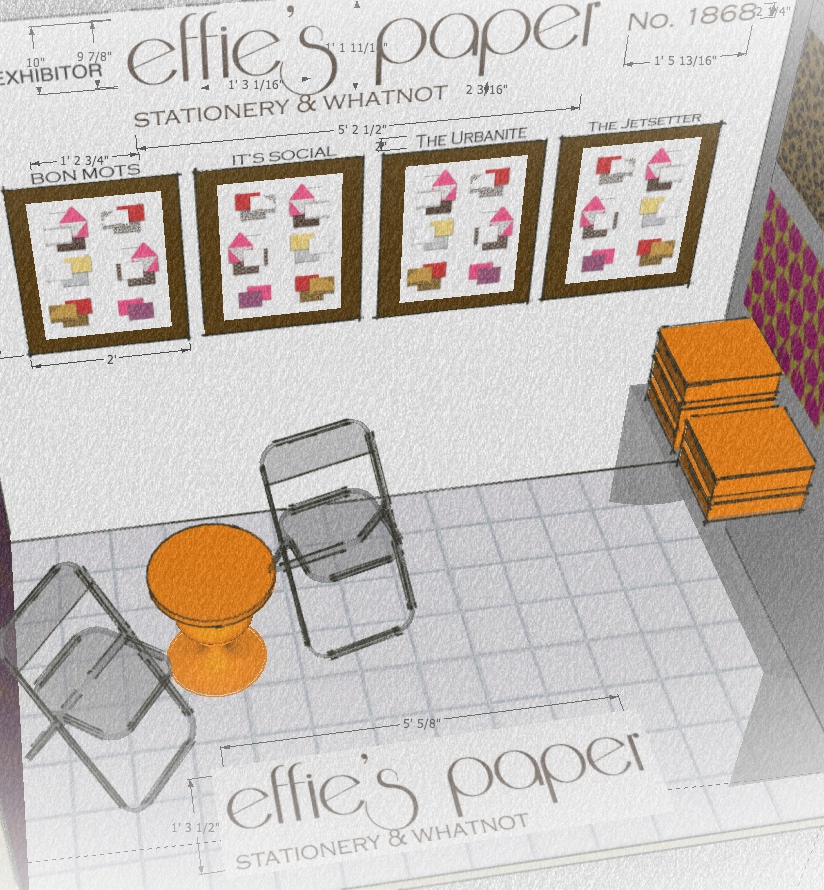 As you can see, we went through a few iterations to arrive at the final booth design, but I was pleased as punch with the way everything came together.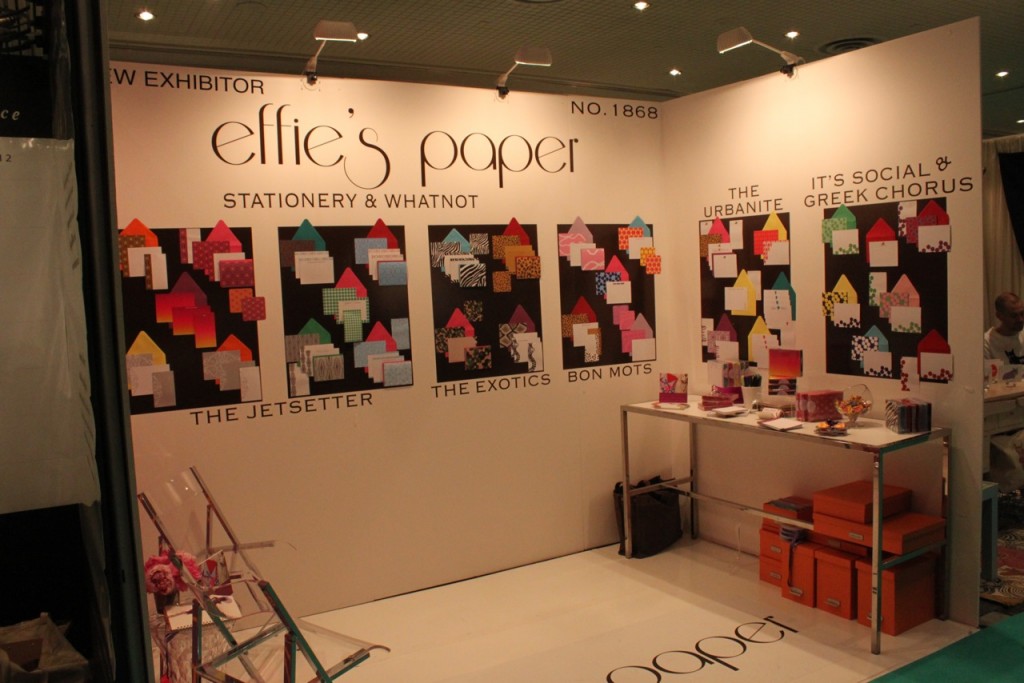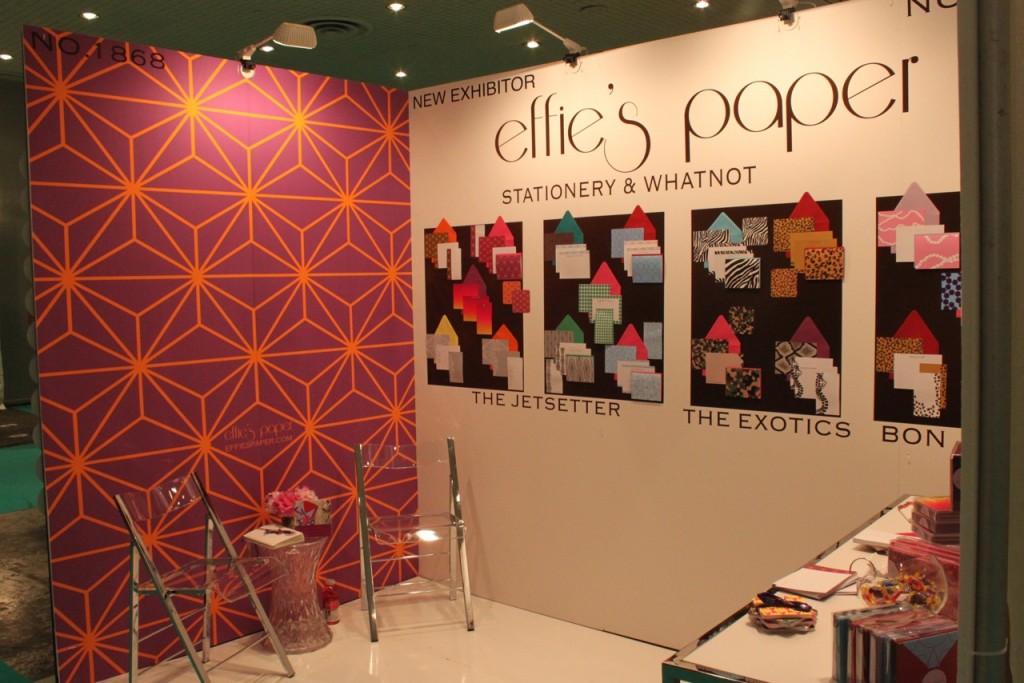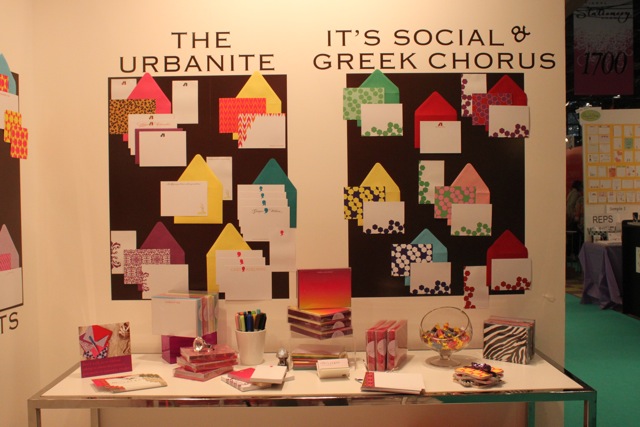 Participating in NSS was an amazing experience!  I met a lot of really great stationers from all strata of the industry, which was very exciting because sometimes when you work for yourself you're in a vaccum of your own making and it's very easy to forget that there are others out there working towards a similar goal.  In addition, effie's paper was featured in the National Stationery Show Daily (kind of like the Women's Wear Daily of the stationery world) on Day 2 of the show, check out page 15 here. And believe it or not, they tell me that preparing for the show was easy and that the really hard work begins now – follow-up!
It was an amazing experience; I'm already planning for 2012.  I'm going to be ahead of the curve next year!