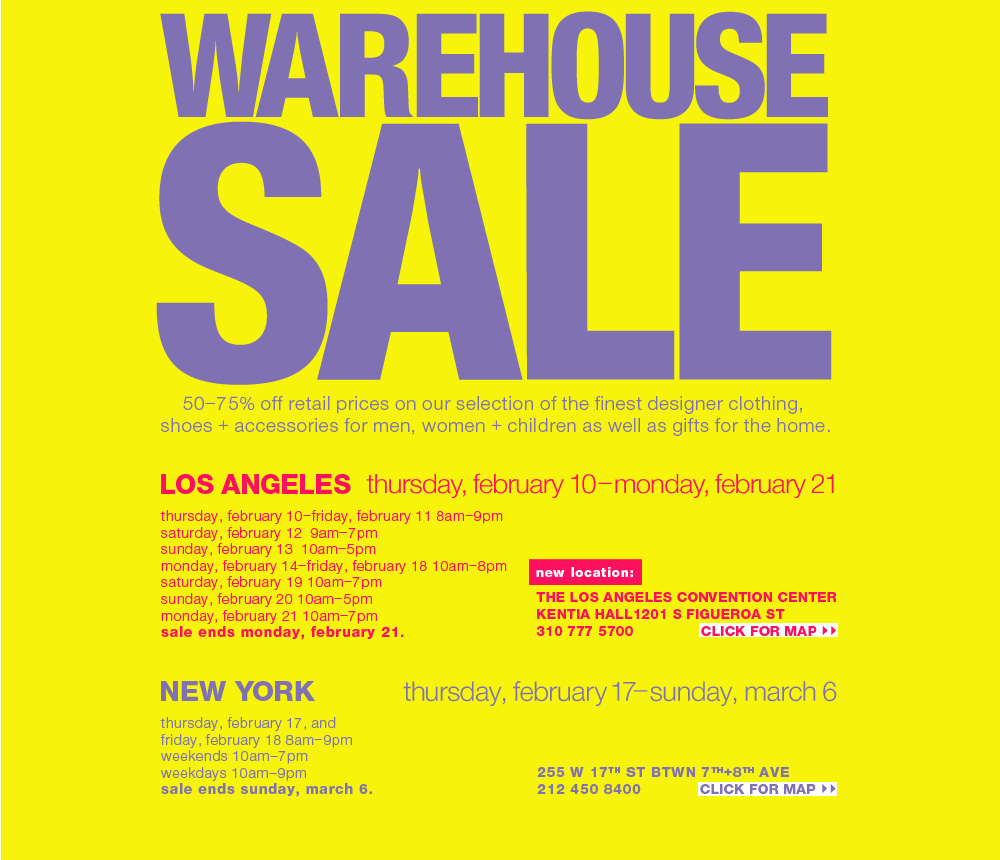 The Barneys Warehouse Sale ended the weekend before last in New York.  Now for those of you who don't live in New York or Los Angeles, the uninitiated if you will, The Barneys Warehouse Sale is not for the faint of heart.  It generally last for two weeks and the deals to be had are sometimes downright criminal.  Let me put it this way, the sale is BANANAS!!!!  There are tons of people, the line snakes around and around and around and before you know it you've spent a couple thousand dollars you hadn't anticipated sometime some stuff you didn't even know you wanted.  So, suffice it to say, I hadn't been in years (we're talking at least 5 years), when I got an email from my friend K (I'm using her initial to protect her in case her husband should stumble across this post) on Friday, March 4th telling me about the exhillerating shopping experience she'd just had at The Barney's Warehouse sale.
K: Have you done a blog on how to approach the barneys warehouse sale???? I came up with the list while there today.
KALYN: No, I haven't been in years.  So no, I haven't done a post on it. Send me your list!
She sent me her notes so that you dear readers will be prepared for the next Barneys Warehouse Sale.  Read carefully.  Yes, these are her notes verbatim!
1. Go day 1 of sale to buy must have unique high-end things (this is what allof the blogs say and obviously matters to people who are not obsessed with biggest markdowns (like me)).
2. Go the Friday before sale ends because final markdowns are implemented then. Go Friday, because by the last Sat/Sun it's too busy.
THIS PART MADE ME LAUGH OUT LOUD:
3. When going on last Friday do the following:
a. If you have on a coat that day, bring a large purse that it will fit in because you have to check the big purse anyway (carrying coat around sale is a nightmare). Basically leave everything in purse (other than wallet, cell phone and a power bar (because you may be there hours – makes no sense to shop hungry – I have yet to figure out how to stay hydrated! LOL)
b. Unless it's really cold/snowing – wear easy shoes to get on/off – totally logically but I never do it!
c. Similarly wear clothes that are easy to get on/off – Same thing, I know this, but forget after a year and show up AGAIN in boots,skinny jeans and a coat! There is a whole side debate about whether to wear a thong (this matters only if you care whether everyone will see your a##! LOL)
d. Arrive at 10am when the doors open and hit shoes first because the line for mates gets bigger as the day goes [they don't put a pair of shoes on the racks - once you find a shoe you like, you have to stand in line to get it's mate] on and everything is also picked over.  Once you have shoes you want, DO NOT lug them around clothing area (you'll be hot, tired and possibly unable to carry everything!).  Ideally, buy the shoes asap because checkout  line is shorter in the am. Once shoes are purchased (1) check them at bag check and go downstairs to shop for clothes; or (2) if car is nearby (see (e) below) take shoes to car, then go back for clothes.
e. If you are like me and have a car in the city – drive it – leave coat in car nearby (and later the purchased shoes)- because if you are like me and went for shoes at 10am then had to meet husband at noon, you need a place to hide newly purchased shoes!  After shoes were secretly stored away, I went back for clothes at 1pm (after meeting husband) and then had trouble getting into to a cab with all the crap I bought – car would have been a huge help, but husband took the car when we met at noon.
KALYN: Hilarious! What did you get?!?!!?
K: The real part where you need to weigh in/blog is when there is the frenzy of 85-90 percent off – how do you buy only what you love or need?
My rules are:
1) Is whatever it is comfortable/does it really fit,
2) Can I wear it more than 2 seasons (not even one season),
3) Would it be worth it at 75% off (crazy discount but I am crazy (see below) or whatever your price is.  For example, I bought black leggings today that were nylon on top and then suede starting mid thigh down – they were originally $1500 and I paid $250 (worth it even if they were only 75 percent off because I hate the way most seude pants fit at waist and butt but there were comfy, are 'in' now but next year with a long sweater they will look like narrow seude pants instead of leggins). So, I got pair of hot (black suede) Givency boots that I think are wearable each year with the right thing, a pair of snakeskin flat brown boots that can be worn every year for 10 years, a pair of aubergine suede Lavin platform pumps that will work for years, pair of Lavin hightop sneakers that are cool, pair of Jill Sander sandles that are not ideal for me (because I hate my toes) but they are sort of a low flat wedge (if not an oxymoron) and very simple but beautiful. Got work blouses, Summer tops and somehow like 6 pairs of pants. I finally had to just leave because I needed a third arm.
Before I could respond, she sent the following:
K:
1) Don't go alone – Take someone that you told before what your need are and who  will be honest about something that is ugly on you; ideally, take a non-shopper so said person can help carry your bags – LOL!
2) Here is tough one – What to do if there is something you love love love but it's not practical? Ideally, allow yourself one splurge item. I saw what I thought was loose cut navy blue short sleeve silk dress with a deep front V and leather bar close strap at top. Turns out it was a shorts thing – so a very dressy one piece, but shorts. Loved it! Is was like $400 down from a few thousand. I didn't get it because did not know where I would wear it – honestly, it shouldn't have mattered; now that I am home, can see that I totally would wear it multiple times this Summer!
KALYN: Well you've made me think I should try to stop by at some point this weekend since I'm going to be in the city!
Stay tuned for my adventures at the Barney's Warehouse Sale with K's rules in-hand, and a few of my own!