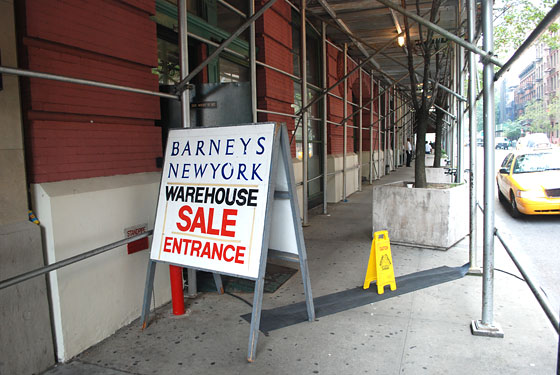 Like many New Yorkers, it's rare that I spend my weekends in the city.  To an outsider this probably seems crazy, it certainly did to me when I first moved to New York.  But, New York is a fast-paced city and getting away for a few days over the weekend, can help to change one's perspective and has been know to add years to one's life.  That said, my interest in re-visiting the Barney's Warehouse Sale was peaked after my email exchange with K.  As the fates would have it, it just so happened that we were going to be in town for the final weekend of the sale.  I had too much to do Friday afternoon to even think about making my way to 17th Street.  But, I figured I'd stop by on either Saturday afternoon after brunch or Sunday first thing in the morning.
After a couple of glasses of wine at brunch fellowshipping with girlfriends, I was feeling quite nice.  I called my husband to see if he wanted to meet me at the Barney's Warehouse Sale but unfortunately, he was still on the conference call he'd been on when I left the house that morning. So, I took my happy self to Chelsea to see what K had been raving about.  I had her list in my head and on my Blackberry.  I arrived to a sea of people and what was clearly controlled chaos. Undaunted and a bit inebriated, I made my way to the Women's section, going against K's first piece of advice — well really, I'd flaunted a number of her rules starting with don't go on the final Saturday/Sunday of the sale, go at 10am when the doors open, so really what was the big deal about going to the Womens' section first, rather than shoes I thought.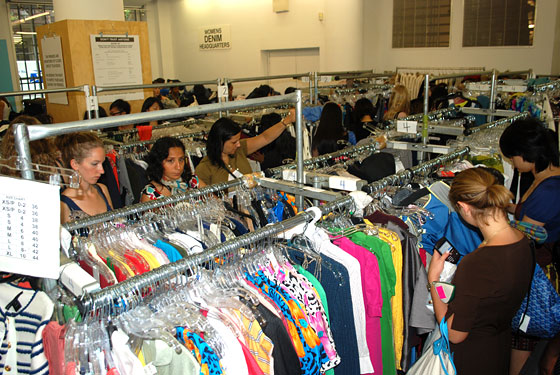 There were people everywhere and the line for the dressing room was so long that I knew I just have to hope stuff was going to fit.  Because I was coming from a brunch meeting, I had on heels and one of my more expensive handbags; typically a no-no for this type of chaotic shopping situation.  But, my nerves were calmed and I was in some sort of zone.  I made my way through the racks and yes, I had a big plastic bag that I dragged around, like the one pictured below, with all of my goodies.  And no, it was no where near as clean or neat as the picture above – I'm convinced that the only reason I didn't turn myself right around when I walked into the madness was the 3 glasses of wine I'd had prior to arrival.
I perused the racks, chatted with salespeople and shoppers alike — sales people?  Yes, they have to have someone there to try to maintain a semblance of order.  And two hours later I emerged a few hundred dollars poorer and 4 pair of pants and 2 dresses richer.  And believe it or not, everything but one pair of wool pants that I paid $30 for fit – I'm giving these to K, she deserves them after all that blogging she did for me last week!
Now since my husband hadn't been able to meet me there, I'd promised to scour the racks for him too.  But, after the quiet battle I'd waged in the Women's section, engaging in combat in the Men's section was not happening in my world at that particular moment.  I got home and told him he should definitely try to get there first thing Sunday am and follow K's rules to the "T".
Sunday morning at 9 am I was awakened to an unexpected question, "What time do we need to leave to get to the sale at 10 am?" WE?  I'd done my tour of duty.  Well, almost.  Yes, by 10:30 am – less than 18 hours later – I was back at the Barneys Warehouse Sale.  This time, I was able to employ K's rules in their entirety.  I was that assistant she spoke about — the one who you should bring to carry your clothes and give you an honest opinion.
We started in men's suiting.  The racks you see pictured above are exactly what it looks like.  Now here's an interesting fact, while there is a dressing room for women that's nothing more than a closed in space that you have to stand in line for ages to enter, there is no dressing room for men. None at all.  How can a man buy a suit without trying the pants on?  Unless it's a designer he's bought time and time again and the exact same style to boot, he's strippin' down to his skivvies to see what does and does not fit.  Suffice it to say, we left the suit section with 2 suits and made our way over to shirts and blazers.  Bags full, we then hit accessories – scarves and hats and the like. We stood in line and then repeated the whole shebang upstairs where men's denim and casual clothes were housed.  Three hours later we finally left the store with three large shopping bags and enough items to round out my husband's wardrobe for the next two seasons, and a fabulous handbag for me, and all at the cost of a good suit at retail.  We immediately left the store and went to our favorite tapas bar Boqueria to decompress from the experience.
Would I do it again?  Yes. But, not any time soon.  Cocktails before-hand? Absolutely! And K? Well, quiet as its kept, she's thinking about flying to Los Angeles to partake in the chaos that will soon be taking place in the City of Angles when their sale begins.
Click here for a list of K's rules for shopping at the Barney's Warehouse Sale.
[photos courtesy of NewYorkmag.com, LA Times blog, shoeyorkcity]