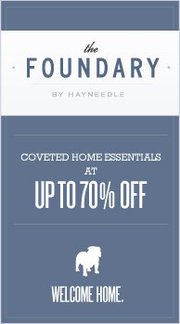 As a shopper, I love to get a great deal.  Who doesn't, right?  Especially when it comes to home goods and the like.  It's sooo easy to give a room a new look with a change of throw pillows, a new lamp or a beautiful piece of art.  All easier said than done, n'est pas?  Nope!  Just let your fingers do the walking to The Foundary.  I liken it to the home version of Gilt — it's a members only shopping portal with daily sales starting at 10 am EST of some really cool new and interesting designers.  The Foundary was launched by Hayneedle to further realize its vision of connecting people with the home and lifestyle products that are perfect for them.  In their own words:
"Every once in a while, a product emerges from the stagnant mainstream to capture the imagination of our buyers. These folks see a lot of ordinary in their day-to-day, so when they spot something transformative, they have a cultivated ability to recognize it. And then something funny happens. Like a flipped switch from daydream to wakefulness, there's a moment of inspiration. They're compelled not just to buy, but to share.
That's why we built the Foundary. To create a space where we can share our passion for products of substance. We share this passion with Foundary members through daily emails, which announce new, limited-time sales events, each filled with surprises, delights, and a satisfying dose of indulgence."
Interest piqued?  Click here to become a member of The Foundary and insure you stay on the cutting edge!
{Are you interested in becoming a member of some of the other flash sale sites? Not to worry my pretty, just click here for an assortment of invitations to some of the hottest members only sales!}