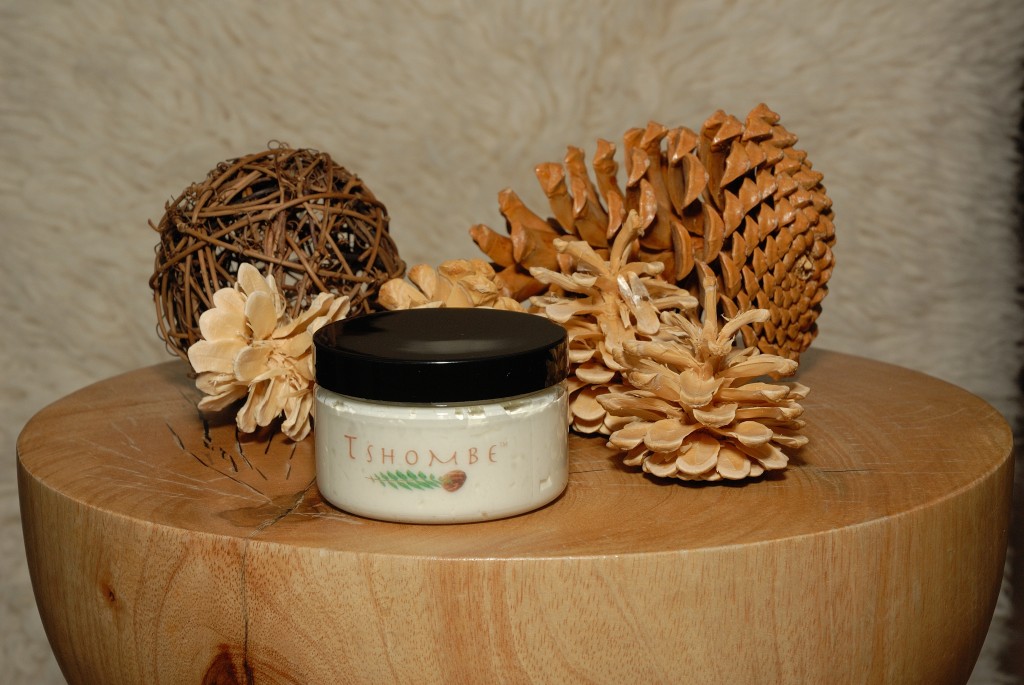 If you have natural hair or have a friend or loved one who's let their hair go natural, you've heard all about the search for the perfect hair product.  If you have no idea what I'm talking about keep reading.  Tshombe, Inc. (pronounced shom-bay) is the brain child of Miriam Bell.  Now an entrepreneur, still a working stiff and juggling it all with aplomb!  They say that necessity is the mother of invention and Miriam's path to Tshombe certainly bears witness to this truism.  Miriam was the college roommate of one of my best friends when we met oh so many years ago; she had processed hair then, but now she's liberated herself from the hot comb!
Why Tshombe?
I developed Tshombe after I transitioned to natural hair, which means I stopped altering the texture of my hair by using chemicals or heat. I was having a difficult time finding a 100% natural product without preservatives, silicones or other ingredients that are known to take a toll on the hair.
One word to describe Tshombe?
Luxurious!
What was original vision and goal for Tshombe?
The original goal was to create a product to care for my hair. After sharing with friends, many commented that I had "the touch" with creating this unique shea butter blend. As I shared the product, its use evolved; I found that people loved it to use on their hands (it's an excellent cuticle cream), people of various racial and ethnic backgrounds and hair textures found it beneficial to use on their hair, and it has become hit for use during the cold winter months to combat dry skin. The original vision remains thesame, to create a 100% natural product to lovingly care for the hair and body.
How is Tshombe different from other natural hair product companies?
Tshombe focuses on two products: the original blend and Exquisite. The original blend contains unrefined shea butter blended with nourishing oils, such as argan, borage and baobab,which is then scented with a blend of essential oils. Tshombe Exquisite "ups the ante" on nourishing the skin and hair by also incorporating, sea buckthorn oil, an oil native to China and Russia known for its high concentration of antioxidants and its purported anti-aging qualities. I am focused on perfecting these two products. I have intentionally limited my scope,which will allow me to focus on the continued refinement of these two product blends.
Describe your typical Tshombe client.
Our typical client is not "typical." Naturalistas, by nature, march to a beat of a different drummer! While many may assume that women who wear their natural hair are making a political statement, the true statement is that we want to take better care of our hair by not subjecting it to harsh chemical relaxers or excessive heat.
Where do you hope to see Tshombe in 10 years?
My vision is to open a boutique where customers can purchase custom made
Tshombe to meet their individual skin and hair care needs.
Any sage advice for people with similar aspirations?
Follow your passion – don't get discouraged – be prepared for hard work
- you're yourown biggest cheerleader – accept that everyone does not share your vision.
Was there a Plan B?
There was no plan B. I fell into this venture, but it is not my sole source of income, so I can take my time and do it right!
One wish for Tshombe?
Continued blessings.
Now let's get personal . . .


First major splurge?
Louis Vuitton Lockit purchased while on vacation in Barcelona, Spain.
What would those close to you say is your favorite personal item to wear?
Without a doubt, my Born sandals.
Which one item do you transport from handbag to handbag?
My Louis Vuitton Nomade Wallet.
Silver or Gold?
Silver
Flats or Heels?
Flats- I'm 5'10″
Gloss or Lipstick?
DuWop Venon Gloss in Jessamine – like AMEX, I never leave home without
it!
PC or Mac?
Is there really a choice – MacBook
Books or Magazines?
Do I have to choose? I'm an avid reader of both.
Favorite TV show?
Oprah Presents Master Class on OWN.
Favorite city to visit?
Eustis,FL – it's where my Mom lives.
To learn more about Tshombe and buy Miriam's unique shea butter blend for your hair and body, click here.