I met my friend Coco about a year and a half ago through our mutual friend JT. Also a blogger, Coco was contemplating taking her passion for writing about beautiful homes to fuel her next venture, a textile company.  Like me, she's a formerly practicing lawyer, who began blogging as a way to channel her creativity and her budding interior design aspirations.  Coco's blog, cococozy, is wildly popular; she's the darling of Jonathan Adler and other big-wigs in the interior design space.  I sat rapt as she gave me great advice and guidance about blogging, but I was more than intrigued about this whole textile venture.  I mean really.  How do you go about getting fabric manufactured? How do you find someone to create the designs you have in your head?  Oh, and did I mention that she still has her day job as an executive in LA?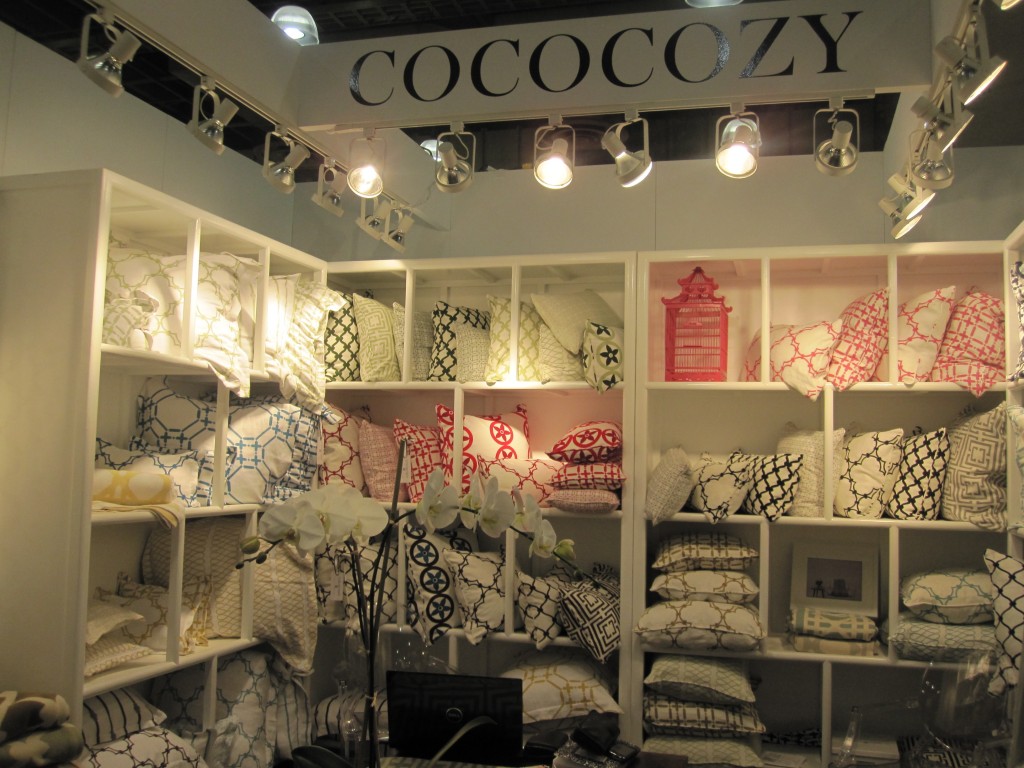 Well, fast-forward 18 months. She did it! Coco and her cococozy line of pillows, throws, curtains and textiles premiered last week at The New York International Gift Fair.  Her booth was FABuLOUS and her wares divine (click here to shop in her online store).  I went to the Javits center on Thursday to hang out with Coco, check out her booth and just take the whole thing in.  I was and am so excited for her!
Again, she provided me with the perfect roadmap.  I could take a page from her book and begin my planning process for participating in the May 2012 National Stationery Show.  I decided to walk the floor and get a sense for how other stationery companies showing at NYIGF displayed their products, think about where I might like to be stationed and look at booth construction.  Off I go on my merry way.  I'm walking up and down aisles, taking catalogues and pamphlets, talking to vendors when out of the corner of my eye I see this booth.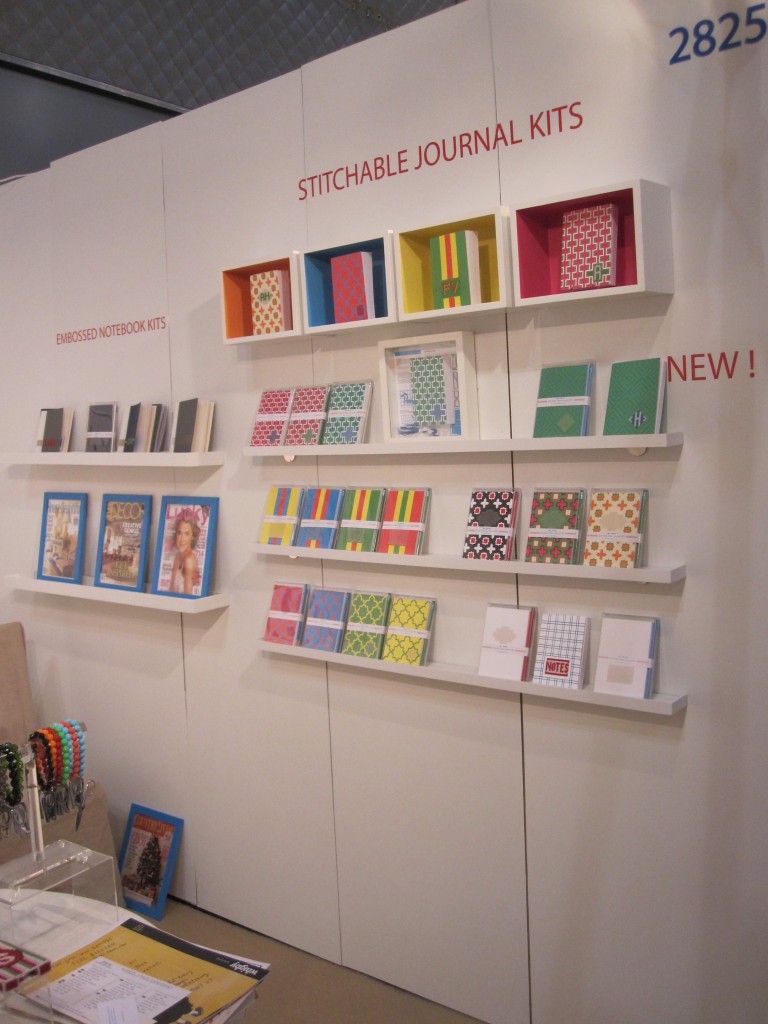 It catches my fancy.  I walk closer to it and realize, I know this woman!
It's Amy Holbrook, a woman I met when I did my Ladies Who Launch incubator almost 4 years ago now . . . She had this crazy idea for modern needlepoint designs (check out her products here) and here she is with a booth at the NYIGF! (Obviously, not so crazy when you see her stuff and take a look at her stockists page).  More confirmation that the 2012 National Stationery Show was within my reach.
Amy's products are much more similar to mine than Coco's, so it was great to see how I could display my stationery and use a white background to insure that our colorful designs really pop. Excitement was mounting, and then Amy and I started talking; she participates in both the NYIGF and the National Stationery Show. I started asking her questions about booth sizes, prices, booth construction and whatnot to begin to file things away in my mind for 2012.  And then Amy started pushing me outside of my comfort zone.  Believe it or not, although I haven't seen Amy in at least 3 years she'd heard from our mutual friend, Karla, that I'd started effie's paper. She told me I'd be crazy not to do the stationery show this Spring.  I said I'm not ready yet, we're designing new lines, I'm having the website re-done, I'm still learning the business and she said, you're as ready as you're ever going to be.  I left her booth with a lunch date to talk more and my stomach in knots.
I went back to Coco's booth and relayed my conversation with Amy.  Coco agreed with Amy. So, while the jury's still out, the seed has been planted.  I think it was definitely Divine Inspiration. Not sure yet, I'm still thinkin' on it, but there's a pretty good chance effie's paper is going to be at The National Stationery Show 12 months in advance of the plan.  As my mother told me years ago, life is what happens while you're busy planning for it.  So, thank you ladies – Amy, Coco and mom – for helping me to see the obvious.  I think.