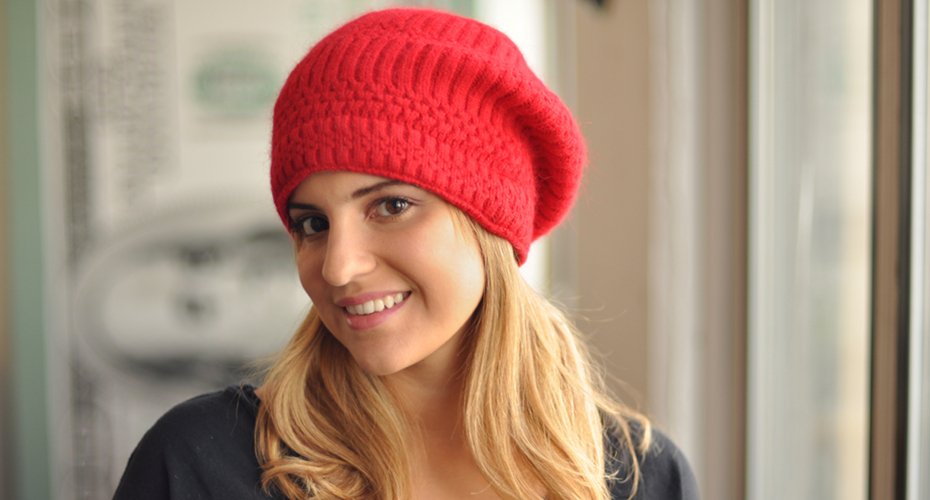 Who would've thought that a banker would have the creative juice to come up with an idea so simple that it just might revolutionize the way we think about hats? Well, they say that necessity is the mother of invention and in Suzanne Ogunsanya's case no truer words have ever been said.  Suzanne had the same issue that many of us face when the cold weather hits – how to protect her hair and keep her head warm during the Winter.  Rather than go hatless or risk trussing her tresses, Suzanne came up with the idea that sparked her new company, HatSoMe.
Why HatSoMe?
HatSoMe was borne out of my own frustrations from having to deal with hair damage resulting from wearing unlined hats during the Winter. After unsuccessfully searching everywhere, from department stores to small boutiques, for fully-lined Winter hats I decided to make my own! And, HatSoMe was born.
The name HatSoMe comes from the idea that we all have our own personal style, our own fashion esthetic and our own fashion needs.  So, we offer a wide array of hat styles and colors — this way each of our customers can find a stylish hat or two that fits her style personality.
One word to describe HatSoMe?
Lovely!
What was original vision and goal for HatSoMe?
When I set out to start HatSoMe, I was focused on creating quality, well-lined hats. I selected beautiful silk and satin fabrics for lining and I spent a lot of time with the production team making sure that the hat linings covered all parts of the hats that would come in direct contact with hair.
But the more time I spent around hundreds of styles of hats, the more I was struck by the opportunity to create a hat line that married function with fabulous style. As a result, each HatSoMe design not only provides warmth and hair protection, but each hat is also beautiful and stylish.
How is HatSoMe different from other hat companies?
HatSoMe is one of very few hat companies that make the issue of hair protection a main design feature. All of our hats are fully lined with silk or satin material which creates a barrier between your hair and the often harsh materials of hats — wool being the main culprit.  Our goal is to protect your hair and your hair style!
Describe your typical HatSoMe customer.
She's stylish with a little bit of practical thrown in.  She wants to look good, but not at the cost of her precious tresses. She cares about quality and definitely believes in treating herself well!
Where do you hope to see HatSoMe in 10 years?
I hope is that HatSoMe will grow to be an important accessory line for every woman. We will continue to listen to and fulfill the needs of our customers. Although this year is the last year that Oprah's Favorite Things will be televised, I definitely have aspirations for HatSoMe to be featured in "O" within the next 10 years!
Any sage advice for women with similar aspirations?
If you have an idea put some good 'ol effort behind it and bring it to life. I have learned through experience that no idea is too small and that there is no failure in trying!
Was there a Plan B?
Moving on to the next idea if this one didn't work.
One wish for HatSoMe?
My wish for HatSoMe is that our customers LOVE their hats. So I am committed to providing my customers with high quality hats that fit their personal style yet meets their needs for warmth and hair protection.
Now let's get personal . . .
First major splurge?
Nicole Miller cocktail dress (full-price!). It was my first experience with retail lust!
What would those close to you say is your favorite personal item to wear?
A beautiful green jersey floor-length summer dress that I bought in Buenos Aires. That dress turns heads without even trying!
Which one item do you transport from handbag to handbag?
My small notebook with pen. This is great for jotting down ideas while commuting. Sometimes my wallet does not make the change-over; that can be a problem.
Silver or Gold? Gold, though I do think silver is under rated.
Flats or Heels? Heels, even though I am six feet tall.
Gloss or Lipstick? Gloss. I have an understated make-up style.
PC or Mac? Mac. I love the Genius Bar.
Books or Magazines? I am so short on time and attention span these days, so magazines work best for me right now. But I do enjoy a great novel.
Favorite TV show? The Good Wife is amazing. (way to go Nurse Hathaway!)
Favorite city to visit? Anywhere in Jamaica. But a close second goes to Barcelona…. and Paris ….and Cape Town. (I love to travel!)
HatSoMe is extending 10% discount to all Possess Your STYLE readers from now until December 31st.  Just use the promo code KALYNJO.  So, if you're looking for something for that hard to please fashionista, a silk-lined hat might be the perfect gift.  Check out HatSoMe's styles here.