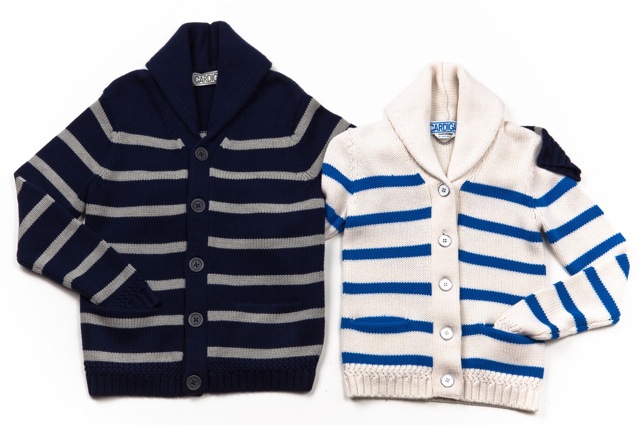 A few weeks ago when I was at the Dream It, Launch It, Live It – Ladies Who Launch conference, I noticed a rolling rack of really cool looking cardigans and scarves. Curiosity peaked, I made my way over to the display and had the pleasure of coming face-to-face with Lynne Hiriak, "Sweater Master" and the dynamo behind this really cool sweater line, CARDIGAN by Lynne Hiriak. Lynne cut her teeth designing knitwear at Michael Kors and Derek Lam; CARDIGAN is driven by Hiriak's own personal love of cardigans. Believe it or not, her personal amassment hovers around 200 pieces. "My evolving personal collection of cardigans confirms that no matter how many of them I have, I can always find a justification and need to have more. It's so much fun adding new ones that serve different purposes to the one's already in my closet. Believe it or not, I just added my first black cardigan to my personal collection." She continued, "My first sentimental relationship with a cardigan began when I was in Catholic high school. I wore the same classic crewneck cardigan in navy or yellow almost every single day."
Why CARDIGAN?
Cardigan's are that one essential item that we can't do without. We all have our favorite ones, and we wear them with holes and all.
One word to describe CARDIGAN?
Colorful!
What was original vision and goal for CARDIGAN?
To create a line of great cardigans and coverups that are seasonless. To create a brand that would be the go to place for that essential item.
How is CARDIGAN different from other sweater companies?
We offer about 80% cardigans – a larger assortment than other sweater companies. We also are famous for combining American heritage with European sportswear. And we're the go to people for striped sweaters!!
Describe your typical CARDIGAN customer.
She loves classics with a twist!
Where do you hope to see CARDIGAN in 10 years?
Everywhere!
Any sage advice for women with similar aspirations?
You can work hard and you can work long hours, but if you don't have the balance of work and play, you won't succeed. Know that the ultimate success is not how much money you make, but how enjoyable your life is.
Was there a Plan B?
Nope!
One wish for CARDIGAN?
To make the world a warmer, cozier place.
Now let's get personal …
First major splurge?
Miu Miu shoes. I used to collect them!
What would those close to you say is your favorite personal item to wear?
My clogs.
Which one item do you transport from handbag to handbag?
My blackberry and gloss.
Silver or Gold?
Gold-my friend caroline's line Brvtvs is the jewelry i've been wearing lately.
Flats or Heels? Clogs!
Gloss or Lipstick? Gloss-neutrogena is the best!
PC or Mac? Mac
Books or Magazines?
Books- I'm old school. I don't think I ever will get a Kindle.
Favorite TV show?
Glee, True Blood, Mad men and lately Boardwalk Empire.  But, my all time favorite show is Lost.
Favorite city to visit? Tokyo
If you havent gotten all your holiday shopping done yet, a CARDIGAN could be for someone on your list (CARDIGAN has a line for men as well). Check out CARDIGAN's Fall sale for up to 50% off here.
Thanks Lynne!