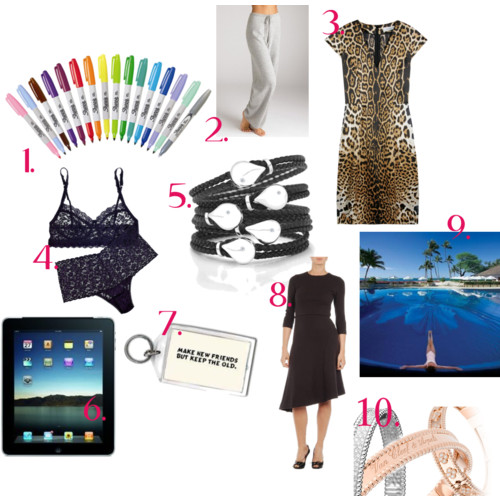 It's hard to believe that 2011 is around the corner!  I don't know about you, but it seems like  2010 has flown by . . . Although it's been a hectic year, I still managed to find the time to find a few items to fall in love with over the course of the past 12 months.
Sharpie Fine Point markers are the perfect writing utensil.  Now they come in a rainbow of colors now and I use them for everything!
I can't get enough cashmere – lounge pants, leggings, cargo pants, sweaters, eye masks – if it comes in cashmere, I've gotta have it.
I admit it, I have fallen deeply head over heels in L.O.V.E. with Yves Saint Laurent. YSL makes me feel chic & elegant. Shoes. Handbags. Apparel. I'm smitten.
The comfortable and sensuous underpinnings from Hanky Panky.
The partnership between Kwiat and charity:water that resulted in the Diamond Waterdrop Bracelet. Kwiat is giving 100% of its profits from the sale of these bracelets ($100 a pop) to fund charity: water.
My iPad! Believe the hype.
I've made some lovely new friends this past year; as I reflect on my frienships, I'm reminded of the song, "Make new friends, but keep the old. One is silver and the other's gold."
You can never have too many LBDs; Jil Sander is my new go-to dress designer.
In between working with individuals, writing blog posts and starting effie's paper, I did a bit of jetsetting this year.  I traveled to some amazing places and stayed at some wonderful hotels; I really enjoyed myself immensely at all of them, but I must admit that I fell a little bit harder for one than the others,  The Halekulani in Honolulu.
I'm dreaming about Van Cleef and Arpel's Perlée Collection bracelets.  I think my wrist would look so lovely with one of these on my arm. A girl can dream can't she?  And if you're going to dream it might as well be on the caviar and champagne level, no?
Anyway, these are a few of my favorite things from 2010.  I have big plans for 2011 and I'm excited to see how the new year is going to unfold.  I wish each of you much success, happiness, love and lots of wonderful treats in 2011!
Stylishly yours,
Kalyn