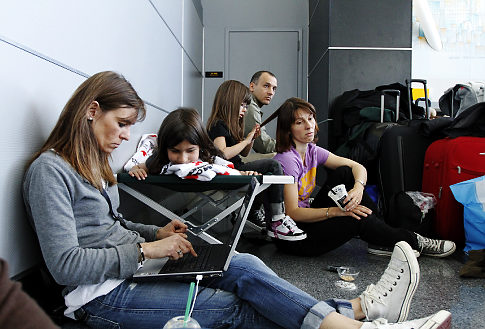 If you're traveling this week, like the Girl Scout motto says "Be Prepared!" This is what both Atlanta Hartsfield and LaGuardia aiports looked like a week ago Sunday when I was coming back from lavish! I hope everything will be smooth sailing this week when we make our around the world-trek to spend Christmas with my family in Bloomington, Indiana and my husband's family in Atlanta – yes, we will actually be with both of our families on Christmas day (mine in the am and his in the pm). Crazy I know, but we're youngish and we don't have any kids, so we're traveling to be with our loved ones this holiday. I've been stuck in enough airports and train stations over the years during the holidays, that I've got my survival kit down to a science.
Cashmere travel blanket & eye-mask – It's always cold on planes and in airport lounges.  And the lighting?  It's enough to wake the dead.
Layers – Unless traveling from warm weather to warm weather, I always travel with a hat, scarf and gloves.  Some say this is more to keep track of, I say these are items that can help ward off a cold.
Emergen-C – Germs, germs and more germs. Everyone has a cold at this time of year, these little packets are easy to pack and they really do help!
iPod – Don't leave home with out it.  What better way to block out all of the drama unfolding than to put in your ear buds and let Ira Glass of NPR's This American Life or Wil.I.Am of The Black Eyed Peas transport you to another realm.
A Good Book – Believe it or not, two Christmases ago, I read an entire book at the Atlanta airport in one sitting while waiting for my delayed plane home. I repeat, I don't leave home without my Kindle.
Snacks – Airport's are expensive.  Gummy Bears, gum, M&M's, chips, Kind bars – whatever I can shove into my carry-on without to much hassle I try to pick up at the drug store the day before I leave.
Comfortable Shoes – This is tough if you're traveling somewhere where Winter boots are a necessity.  You might have to bite the bullet and walk around like lead foot.  I've got a great pair of Stuart Weitzman boots that I can pack, I'm all about the Converse sneakers at the moment.  No, they don't make me look a fashion plate, but they do keep my dogs from barkin'!
Chargers – I usually pack my chargers in my luggage, but for long travel days like these you just never know when you might need to re-charge your phone, iPod, Kindle, iPad, etc.
A Good Attitude – It's the holidays.  Everyone's anxious to get home and see their loved ones, but no one can do anything about the inevitable delays.  It's much easier to travel at this time of year if you do it with a good dose of holiday cheer and try to impart it to the folks at the airline as well as your fellow travelers.
Prepare for the worse, but hope for the best and be pleasantly surprised when you sail through security, then get to your gate and boarding has begun and miracle of all miracles your flight lands on time.
Travel safe and be well!
[image unknown]