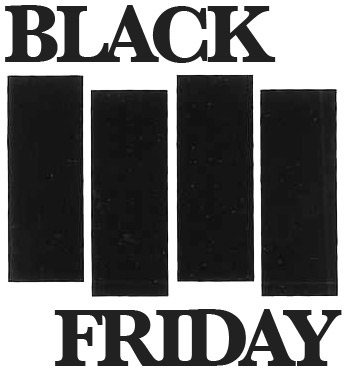 The biggest shopping day of the year, Black Friday (the day after Thanksgiving), is only 2 days away!  Are you ready?  Do you know what you're buying for the friends, family and colleagues on your list? They say the sales are going to be even better than ever this year  . . . here are some sure-fire tips to help you make the most of your Black Friday or Cyber Monday.  Cyber Monday is to Black Friday what  yin is to yang.  So, if the stress of Thanksgiving dinner is all you can handle this weekend, no worries. There will be deals galore on Cyber Monday.  Check out sites like CouponCabin and RetailMeNot to find out about even more special offers and bargains before you let your fingers do the typing.
Kalyn's Black Friday Shopping Tips:
Know your budget;
Create a list of who you're buying gifts for, how much you plan to spend on each recipient, and what you'd like to get for each one;
Come up with a shopping strategy so that you maximize your time at the mall or online;
Keep your list with you while shopping so that you can check off your purchases as you go; and
Keep all of your holiday receipts in the same envelope.  And, remember to ask for gift receipts.
Happy Shopping!