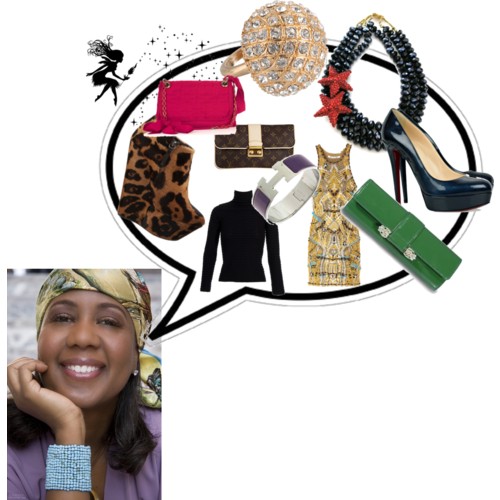 Today's question comes from Jane who learned about Possess Your STYLE from a guest post I did on Corporette:
Hi -
I have recently returned to full-time work after being a mostly stay-at-home mom for 18 years. I have fallen into an absolutely great job in development for a brand new $110 million museum. Because I am in fundraising, I am in the public eye a lot, so I need to "dress up" every day.
Even at age 54, I keep up with fashion and will admit I look quite a big younger than I am, and people often mistake me for about 10 years younger. (All the women in my family are blessed this way!) I am 5'2″ and weigh about 110 lbs. However, I am definitely an apple. I gave birth to full-term twins 20 years ago and have an abdominal separation. The only way to take care of it is a tummy tuck, which for many reasons I am not going to do.
I've learned quite a few tricks about disguising the apple problem, such as wearing a column of color, drawing attention to my great legs and bust, never wearing tops tucked in, etc. But it is still a problem to shop and dress myself chic and fashionable. I wear a six in the bust and a four in the hips, but am more like a 10-12 in the waist and stomach. Without my clothes on, I literally look about five months pregnant.  Unfortunately, I also have IBS, so I suffer from bloating in the stomach during the day and a tightness in the waist is quite uncomfortable. Although I have several firm, shapewear pieces, I find them almost unbearable because of the IBS. I have lots of skirts and pants with flat elastic waists that I wear with a closed blazer. You can't tell they're elastic, and I know I look professional. But it is always a challenge.
Any tips for me?
Jane
MY RESPONSE:
Dear Jane -
Congratulations on landing such a fabulous job!  It sounds like you're truly in your element.  It also sounds like you've got a very good sense of your shape and the parts you want to maximize as well as those you want to minimize. And, you've got a wardrobe filled with clothes that work for you.  To help you take things up a notch, my suggestion is that you invest in some a-line dresses, some empire waist dresses, wrap dresses, tunic tops and maybe a caftan or two.  While tunics can be casual they can also be dressy, Tory Burch has some great tunic tops made out of  interesting fabrics with all sorts of embellishment.  A caftan may not be on your radar screen, but Pineda Colavin (a Mexican designer) has some beautiful flowey tops that are great on their own but can be made even more interesting with the right accessories. You can wear each different ways – with slacks, jeans, leggings, belts, tucked in, etc.  They're truly unique and I think will work well in the Arts world.
I'd love to hear which suggestions, if any, you decide to employ.
Stylishly yours,
Kalyn
JANE'S REPLY:
Kalyn -
This is definitely a delayed THANK YOU to your response. I won't go so far to say clothing has changed my life, but one of your ideas made a great difference!
Dresses. I don't know why I never thought about dresses. With a closet full of skirts, pants and blazers, I realized I had just one work appropriate dress. A sheath with a nice jacket can look just as good as a suit. A dress can really hide my tummy issue and is more comfortable than a skirt. So I have invested in several dresses (after ordering, trying on and returning many!). I have been reading "How to Never Look Fat Again," and am following many of the ideas for the buddah belly.
Once again, thanks! A big "duh" for me because I just forgot about the basic dress. I think I concentrated so hard on a suit that I forgot about the dress!
– Jane