Recently, I had the opportunity to interview Megan Masoner, the genius behind reFINEstyle.com.  What you ask is reFINEstyle.com? It's an online auction-based marketplace for new and pre-owned luxury apparel and accessories (with prices up to 70-95% off retail).  How is it different from eBay you ask? Keep reading …
Why reFINEstyle?
It's about timing really, finding the "ungettable" get at the right moment (the right price/right time). The easier a customer can locate what they covet, the better. When a shopper creates an account on reFINEstyle.com, she provides her size and favorite designers, so during the shopping experience her preferences display first. There is no digging and no searching. More importantly, I think customers are looking for convenience; desktop shopping enables someone looking for great deals to "check" for new merchandise at their favorite shops more frequently – a customer is more likely to shop multiple times a week if they can skip the drive.
One word to describe reFINEstyle?
STEALS!
What was original vision and goal for reFINEstyle?
I realized that too many of my friends were getting rid of designer clothes with no return. The opportunity was there [a simple, easy and hassle free solution just needed to be designed] … and so reFINEstyle.com was born.
How is reFINEstyle different from other online auctions?
Custom preferences make shopping for designers you love, in your size, a breeze! Plus, the site's easy navigation, low fees, and boutique-like environment set us part.  Shoppers can find over 800 premier brands categorized by new arrivals, designer, season, style, color, price, size or condition.
Also, all of our merchandise is 100% authentic. We hold our sellers to the highest standards – we have a zero tolerance policy for fakes or replicas. Unique to our listing approval process is a 24-hour review period, where the reFINEstyle team double checks inventory prior to activating listings. Our aim is to help provide consumer confidence in our marketplace.
Describe your typical reFINEstyle fashionista.
The reFINEstyle fashionista is an everyday woman who appreciates great fashion at a great price.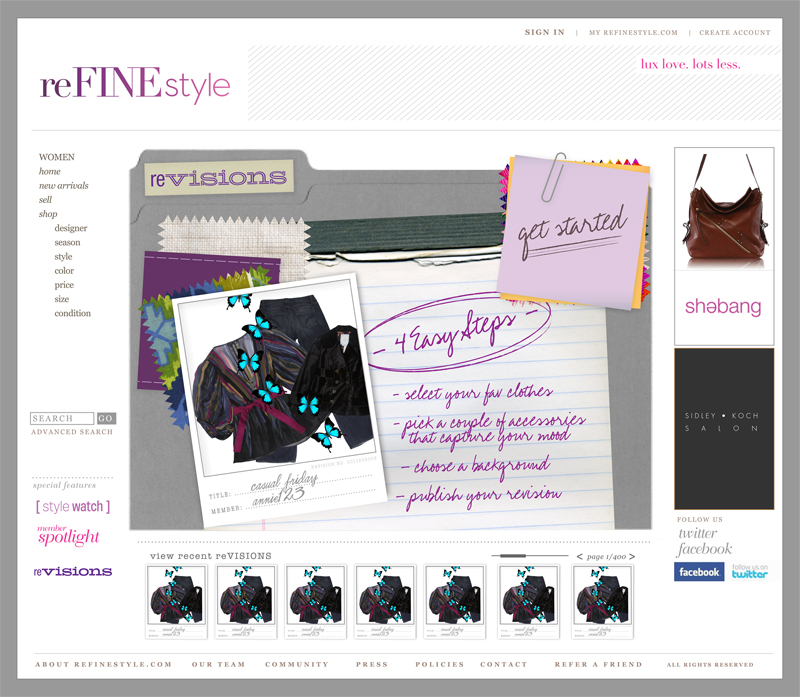 Where do you hope to see reFINEstyle in 10 years?
I'd love for reFINEstyle to be the largest premier online marketplace for luxury fashion nationwide. Great deals, great products, and a trusted authentic marketplace.
Any sage advice for women with similar aspirations?
Be enthusiastic and always stay motivated — don't allow yourself to be overly discouraged. Remember that not every day results in a business 'home run'.
Was there a Plan B?
Nope….that's a bit candid but true! I'm a big believer in betting big, and just going for it! Whether it's a start up, or an existing business, there is a "core" product or idea which makes that business go. If you have a concept that not only you, but people whom you respect, believe in —- it's a good bet that it is probably a good idea – stay focused.
One wish for reFINEstyle?
Continued success and longevity.
Now let's get personal . . .
First major splurge? My MW diamond chronograph watch.
What would those close to you say is your favorite personal item to wear?
Probably my large hoop earrings. I wear them almost every day. They're half gold and half sliver with diamonds (and you can reverse them!).
Is there one item do you transport from handbag to handbag?
YSL Lip Gloss
Silver or Gold? Gold
Flats or Heels? Flats
Gloss or Lipstick? Gloss
PC or Mac? PC
Books or Magazines? Both!
Favorite TV show? Gray's Anatomy
Manicure or Au Natural? Manicure
Blackberry or iPhone? Blackberry Bold!
Favorite Blogs?
Jan Showers,Venz edits, Nonsense & Sensibility and The Now Stylebook
Favorite city to visit? VEGAS!
So, as you do the changeover and clean out your closet to make room for your Winter clothes, think about selling some of your items on reFINEstyle and getting a return on your initial investment. Learn more about reFINEstyle here.
[questions adapted from
GIGS]