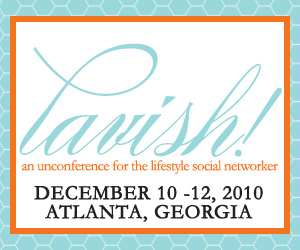 If you like the finer things in life, believe that a red-soled shoe must adorn your foot at least once in this lifetime and love all things style and lifestyle related, then attending lavish! might be a necessity.
lavish! is the brainchild of Shameeka Ayers, also know as The Broke Socialite. I know, right? Leave it to The Broke Socialite to come up with the conference to end all conferences.  But don't be fooled, this isn't just any regular 'ole conference. lavish! is slated to be an un-conference where some of the swankiest of the swankiest bloggers in the lifestyle space will be convening to network and talk shop in an un-conference way.
Why lavish!? Well, after attending a number of conferences Shameeka felt like a square peg in a round hole – she wasn't a "Mommy" blogger per se, nor a true "Tech" blogger, but a blogger who blogs about the finer things in life running the gamut from interiors to style to food and travel. So, she let her fingers do the walking and started tweeting, skyping and emailing some of those square pegs she's met at other conferences et voila, lavish! had legs.
Come join us in Atlanta at The Mansion on Peachtree (a Rosewood property, known for some of the most luxurious properties on the planet) the second weekend in December (the 10 through the 12th to be precise). If you're a blogger, be there or be square!  If you're thinking about dipping your toe into the lifestyle slice of the blogsphere, attending lavish! is the perfect entrée to meet some of the movers and shakers setting the standard.  I'll be there moderating the STYLE panels – our lineup is pretty FAB: Franki Durbin of Life In A Venti Cup, Monica Barnett of Blueprint for Style, Sondra Lewis of Chic Chocolate, Kelly L Moore of For the Love of Design, Dawn Del Russo of Bella Dawn, Roshini Cope of Glamazini, LaToicha Givens of Luxe Tips and Marie Denee of The Curvy Fashionista. Stay tuned … The Broke Socialite is working her jelly; daily, new bloggers and sponsors are being added.  Her latest coup? The hot new duo behind Rue Magazine have signed on as the official online media sponsor!
Come join us.  Learn more here.
(Oh, and in case you were wondering, Shameeka's alter ego-The Broke Socialite-is a little tongue-in-cheek. She's all about living a fabulous lifestyle, as evidenced by her penchant for nice things, she just believes in maximizing her dollars!)