Shoes of Prey, an Australian bespoke shoe company, was kind enough to send me a pair of their platform pumps for review.  I went for the snakeskin platforms below (honestly, I hadn't seen the hot pink fish skins above …).
Although Shoes of Prey is a bespoke shoe company (more about that in a minute), the shoes they sent me were not specifically made for me.  I chose a pair from what they had in stock in my size.  This is an option they offer, but if you're going to go for broke, I say do it in a style that's befitting you and only you!
So, what is a bespoke shoe company you ask?  It's simple.  You get to design your own shoes. You choose from 7 different kinds of shoes – ballet flats, wedges, ankle booties, round toe pumps, platform pumps, pointy toe pumps, and gladiators. Then you choose the leather you'd like (for example, you could go with green snakeskin and then choose a silver or gold leather for the heel), the toe, the back, the heel height and any decorations.  The shoes range in price from $180 -$280 (ankle boots are $330) and come in an large range of sizes, US womens 3 to US womens 11.5.  If your foot is very wide or very narrow, Shoes of Prey will work with you to get the sizing just right (the additional sizing may cost extra). Oh, and they're based in Australia so, shipping is a little bit higher – $25, but they do free returns and will work with you to make sure your shoes fit properly (and yes, if you are not happy with your bespoke shoe and have not worn it, Shoes of Prey will take it back).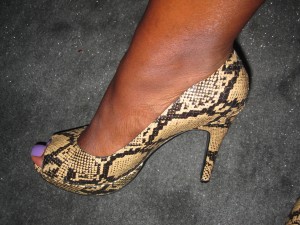 I give Shoes of Prey a B+.  The shoes are well constructed and have a nice heel pad in the insole.  Mine were a little big in the heel, so I inserted the toe-pads that were provided which helped to push my heel all the way back and minimized slippage.  I vacillate between shoe sizes, it's crazy but in some designers I'm a 7.5 US and in others a 9 US (I know, it killed me when the salesman at Bergdorf's suggested I try a 9 a few months ago, but the shoes I got were fierce so size, smize!).  I say that to say, that in Shoes of Prey, I'm probably a 7.5.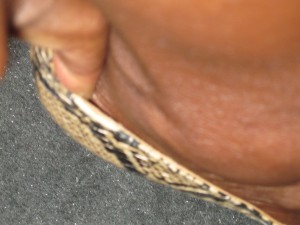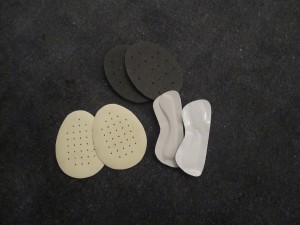 My platforms were comfortable to walk around in, but I was walking on carpet. I truly believe that the true test after you purchase a pair of heels is:  "What do your feet feel like after you end up standing on concrete or marble for an hour or two?"
That said, I absolutely LOVE the idea of being able to design my own shoes … My problem is I'll come up with what I think are the perfect pair and then have shoe envy when I see another pair that are even HOTTER than the ones I created.  I guess I need to let my inner Disco Diva out of her box!  I'm still thinking about the green snakeskin with the gold heels ….. decisions, decisions, decisions!
FYI  – Shoes of Prey sent me these shoes for review only, the shoes will be returned to them after this post. This review is purely my opinion; it is a non-compensated and non-sponsored review.