New York Fashion Week officially kicked off last week on, Thursday, September 9th. My friend Geneva invited me to attend the Vessel by Lois Samuels show with her on Thursday, so I was lucky enough to be a part of the hoopla.  What I love about Fashion Week is people watching!  Everything about Fashion Week is a production. If you've ever watched a Season Finale of Project Runway, you've gotten a good glimpse into the maddess behind the scenes.  It's electric!  Definitely organized chaos – the models, the celebrities, who gets seated where, the PR girls with lists and walkie talkies, the red ropes and the lines; not to mention the poor designers scurrying around backstage trying to make sure that their shows go off without a hitch.
The Vessel show was at Grand Central Station in Vanderbilt Hall replete with all of the above.  In attendance were some true fashion dignitaries - Michaela Angela Davis, Harriette Cole and Beverly Johnson to name a few.  So, who is Lois Samuels you ask?  She's a new designer, but she's not new to the world of high fashion.  The Jamaican-born Samuels was a model, photographer and publicist in the fashion industry.  Her line is about strict minimalism.  Geneva interviewed her for Uptown magazine and gives a great description of Samuels' style:  "[s]he embraces uniformity with contemporary office looks and vintage women's industrial work wear, along with farmer's jumpsuits, long-tailed jackets, and starched white apron dresses."
Here are some shots (please excuse the quality of the photos, I took them with my blackberry – yes, we were that close!) of The Vessel's Spring 2011 line.  Tell me what you think.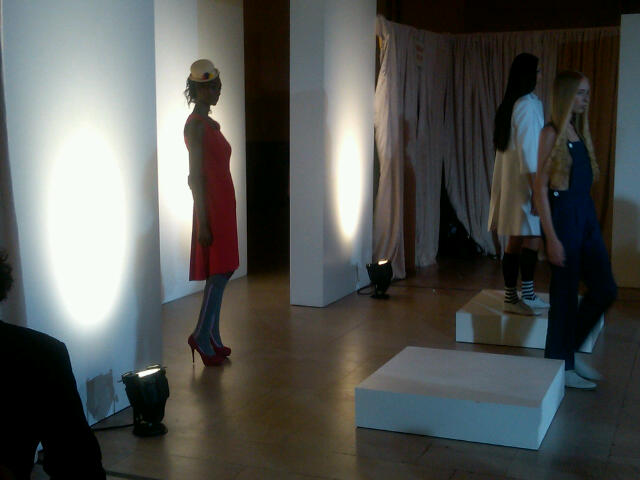 Thanks Geneva!
[invitation image from Refinery29]