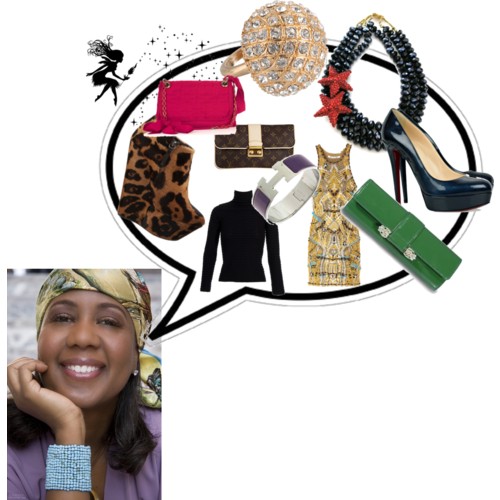 Today's email is from a reader who's a bit ahead of the game and is beginning to prepare for temps below zero:
Kalyn -
I need you to talk about "to Fur" or not to "Fur" and how to wear it. Vests, coats, Fur no no's and repurposing fur. I have had several friends to ask me where they can get a good furier that can chop up their moms' coats!!
Thanks!
–M
MY RESPONSE:
Dearest M -
You know I absolutely LOVE fur!!!! And, it's in this Season in all shapes, colors and textures.  As I've said previously on this blog: Now, let's be clear – I love all kinds of fur – faux, vintage, new – I don't discriminate.  Yes,  I'm aware of the ethical issues and I've worked those out for myself.  If you have issues with fur, you do and you're not alone.  I'm not writing this posting to convince anyone to drink my particular brand of koolaid on this point. However, I am writing it because wearing fur, faux or real, is a luxurious experience.
So if you're questioning whether wearing fur is for you, find a FAB faux fur. They're available at all price points, in almost any style you can think of and just about any color too.  Fur is in this Season – jackets, coats, capes, vests, boots and hats.  You name it and someone is making it in fur, both faux and real.  If you're not sure about this "trend", start of slow.  Find a cool hat or maybe a vest to see if the whole fur thing works for you.
To buy a real fur or not?  A good friend of mine has vowed never to buy a new fur based on her ethical concerns.  However, she has almost as many furs in her wardrobe as I do (heck, who knows, she may have me beat by a mile!).  How? She only buys vintage furs.  Her rationale is simple — by buying vintage she's not contributing to anything she considers unethical.  It works for her, may work for you too.
My friend is on to something though.  A great way to help green our environment is to re-purpose goods, whether that good happens to be a fur coat given to you by a relative or whether you buy a fur at a resale shop (don't laugh, believe it or not, I've gotten some great furs from holes in the wall).  What I'm going to call vintage furs, anything made before 1970 in my book, are often very heavy and sometimes uncomfortable to wear.  Having older furs restyled can make them lighter and easier to wear. Plus, who wants to walk around in an old-lady looking fur coat?  Trust me, it totally defeats the feeling of luxuriousness!  Where to have a fur restyled depends on where you live.  If you're looking for someone in New York, I have a few places to send you.  If you're outside of the 5 burroughs, I suggest that you either go to a department store with a large fur section and make inquiries there or go to a specialty fur store (you know the one your mom, grandmother or aunt got her coat from).  If these folks can't help you out, they will certainly be able to point you in the right direction.  Bring pictures of coats, jackets, capes etc. that you like (maybe you want the collar from one coat and the sleeve from another).  Also, depending on the type of fur you're dealing with, you may want to consider having your newly restyled fur sheared.
The world is your oyster!  Stay warm this Winter in whatever kind of fur you're most comfortable in.  I'm eyeing this cute little faux fur vest myself …..
Stylishly yours,
Kalyn