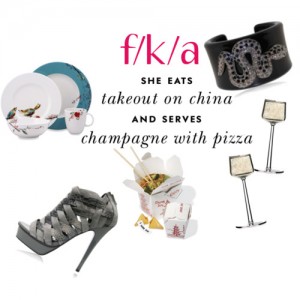 So, what is a "Formerly" you ask?  According to Stephanie Dolgoff, author of My Formerly Hot Life: Dispatches from Just the Other Side of Young, a Formerly is someone in their late 30s/early 40s who is no longer HOT and is not quite middle-aged.  You know, someone who used to wear heels of death-defying heights and skirts that left little to the imagination, who now thinks about whether owning such items is practical.  Kids, bad feet and large thighs may all be contributors to you being a Formerly according to Ms. Dolgoff.  I beg to differ.  This may be a case of the lady doth protest too much, but I like to believe that like a fine wine I've gotten better with age.  My skirts may be a little longer, but I do what I can to work what I've got!  Am I a little wiser? Yes. Have I become an expert on hair coloring? Of course.  But a Formerly?  Never!
I will always drink champagne with pizza and eat take-out on my fine china.
What about you dear reader?  Are you a Formerly?