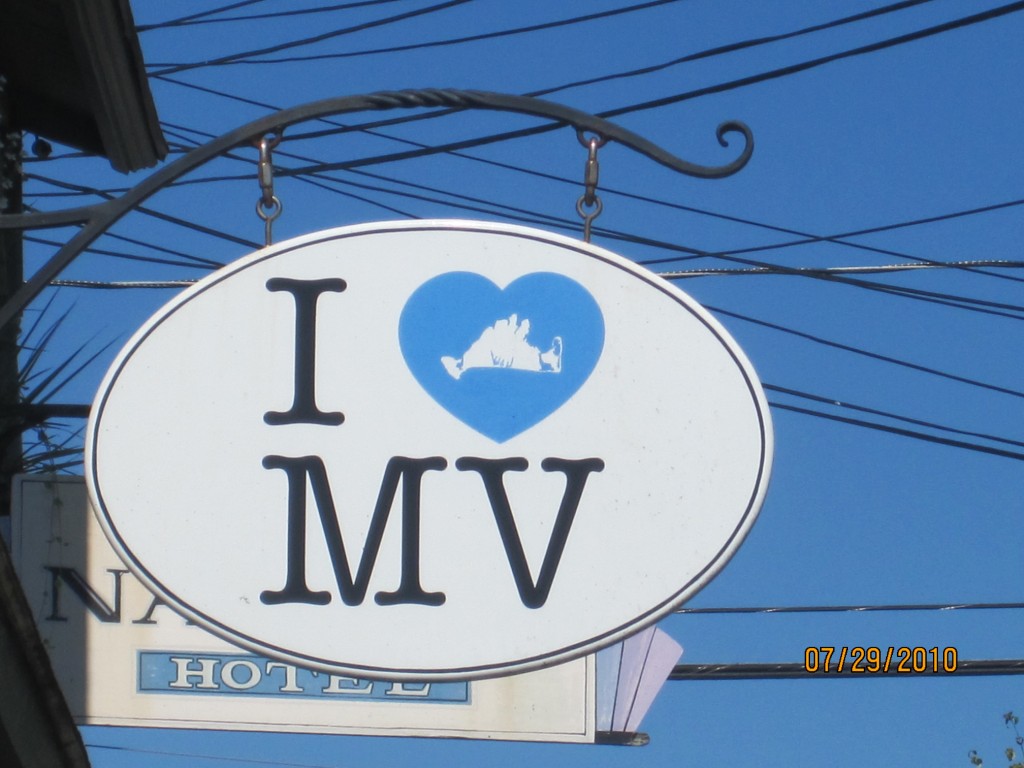 I've been hanging out on Martha's Vineyard for the past week catching up with friends, hanging out at the beach, eating good food and generally just enjoying life. Days have a way of blending into one another – it's hard to believe that the week flew by so quickly!  If I had my druthers, I'd come up to the Vineyard for two weeks. I am happy to have been here for one week, but just as I'm re-learning my way around and re-discovering some of my favorite shops it's just about time to head home. Nevertheless, I'm definitely in my happy place!
Each town on the Vineyard has a different style.  I'm most familiar with Oak Bluffs, Vineyard Haven and Edgartown. Why?  Probably because most of the stores are concentrated in these three areas.
One Size Fits All
Oak Bluffs has a little something for everyone – young and old alike, prepster, hippie, bohemian, Republican and Democrat.  It's definitely the melting pot of Martha's Vineyard.  It's very kid-friend and family-oriented; there are tons of kids running up and down Circuit Avenue going from the arcade to the carousel to the ice cream shops.  You see folks in everything from Vineyard Vines, tie-die t-shirts, Vilebrequin to Lilly Pulitzer and Grateful Dead t-shirts.  The shops are easy to navigate and range from mid-range to low-range in price.  My favorite store in Oak Bluffs is Third World Trading Company – it's got an eclectic mix of dresses, jewelry, bags and tops.  Definitely a place to clothe your inner hipster.
Boho Chic
Vineyard Haven is home to lots of small art galleries, interesting boutiques and home stores.  The atmosphere is cool and calm with lots of stores that make you want to decorate that Summer vacation home you've been dreaming about.   Walking down Main Street is a piece of cake in comparison to Circuit Avenue in Oak Bluffs.  The crowd is definitely a little bit older with an artsy-fartsy vibe – lots of linen, maxi dresses, big sun hats and interesting silver jewelry.  Believe it or not, despite the fun boutiques in Vineyard Haven, my favorite store on Main Street is the bookstore, Bunch of Grapes.  It's a lovely independent bookstore that just makes me want to browse one book after the other- definitely, one of my favorite pastimes.
Preppie Heaven
Edgartown has got to be one of the preppiest places in the world aside from Nantucket.  If you've read The Preppy Handbook, you understand Edgartown.  If not, just imagine a place where pink and green, Menemsha blues and stores like J. McLaughlin rule.  The streets are lined with the preppiest of the preppiest stores and the stores are filled with clerks who look like they've just stepped out of a JCrew or Kate Spade ad.  The crowds walking up and down the streets reflect the clerks in the stores.  Spending time in Edgartown reminds me of growing up in Bloomfield Hills, Michigan.  My favorite stores are 20 Main and Nell – they're merchandised so well that the windows make me want to walk in and buy out the store.  I'd describe them as preppy chic with a bit of SoHo thrown in. Kudos to whomever is doing the buying, great eye! (For the record, as much as the windows make me want to become the prepster I once was, I've only purchased one pair of pj's)
What are your favorite Vineyard stores?