Another reason to move to Paris?  The Cafés!
Some of my most relaxing afternoons have been spent sitting in a cafe watching the world go by.  I can't wait for warm weather in New York when restaurants spill over into the sidewalks and you can sit outside to enjoy your newspaper and a good cup of coffee.  In Paris, that good cup of coffee is accompanied by a buttery, flakey, melt-in-your mouth croissant.  But the real difference is that in Paris, all of the café chairs face the street rather than one another.  Why?  All the better to see and be seen of course!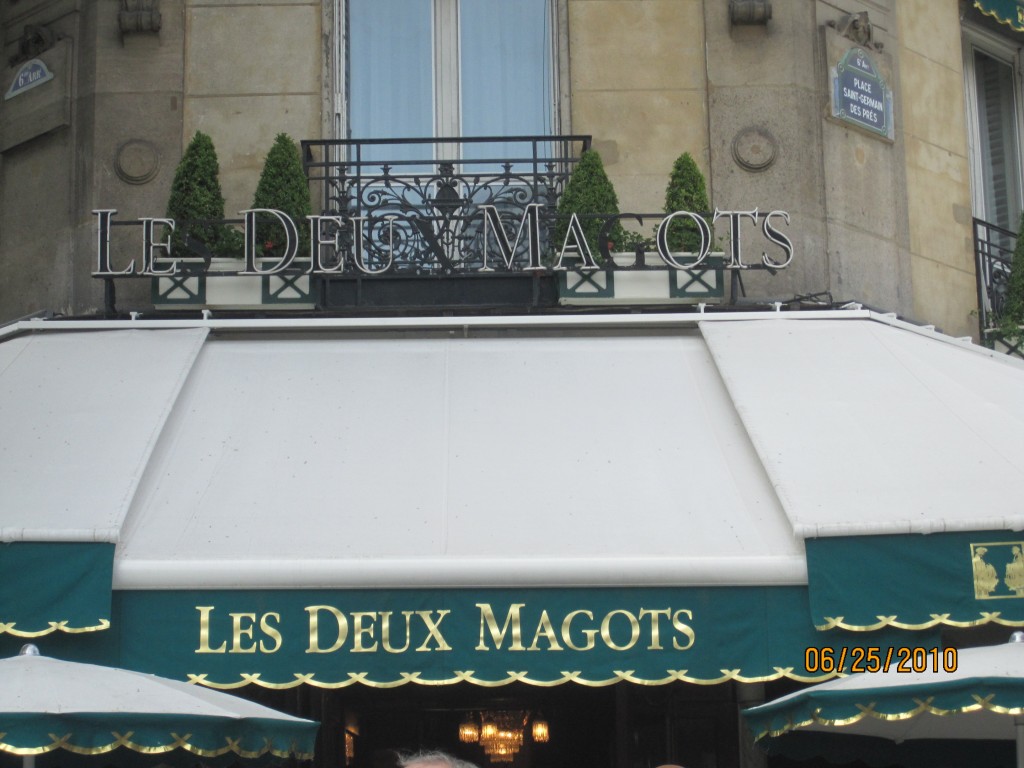 I think my favorite cafe in Paris is Les Deux Magots in Saint Germain des Prés; I know it's got a reputation for being a bit touristy, but real Parisians really do go there – it's where our friend Eun Hwa suggested we meet up.
The name, Les Deux Magot, comes from the two wooden statues of Chinese commercial agents (magots) that adorn one of the pillars.  The last time I was there was almost 10 years ago, but nothing's changed.  The only difference is that then it was a cold March day and my sister and I were doing our best to keep warm while drinking their famed hot chocolate and trying not to look like tourists.  This time around, it was 80 degrees and I was drinking Perrier and sitting with Parisians!  Summer, Spring, Winter or Fall – it's a scene.  It's definitely a place to see and be seen from back in the day when intellectuals like Simone de Beauvoir and Jean-Paul Sartre intellectualized and writers like Albert Camus and Ernest Hemingway thought deep thoughts and artists like Pablo Picasso soaked up the landscape.
If the walls at Les Deux Magots could talk, oh what stories they'd tell!