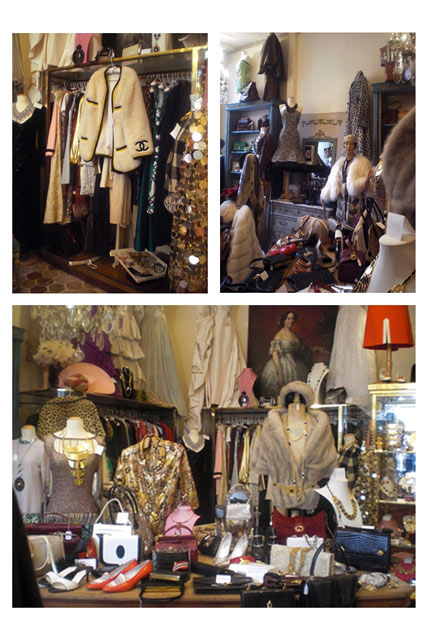 No trip to Paris would be complete with out shopping.  Yes, we made it to the obvious – Chanel, Louis Vuitton, Yves Saint Laurent, Anne Fontaine and the like, and they'are absolutely beautiful stores with fabulous merchandise to be had.  But, I have to tell you my most favorite place to shop in Paris is Marché aux Puces St-Ouen de Clignancourt, a.k.a. the Flea Market!  Call me crazy, if you will, but once you've been there you'll know why I love it.  For some reason, we don't have flea markets in the U.S. like they do in Paris or even London for that matter.  Leave it to the French to one-up us on junk, but they do and they do it sooooooo well.  Whatever your heart desires is there for the taking and then some.  A Birkin bag?  A Kelly?  Vintage Pucci, Channel, Cacharel?  Beautiful costume jewelry, fabulous fur coats, fantastic furniture to outfit every room in my imaginary country home; you name it, and it was there.  Prices were pretty good.  I found that speaking French and exhibiting my knowledge about a particular designer was helpful in dealing with vendors.
While we were strolling through the Marché (and there's lots and lots and lots to stroll through), I saw an Asian woman who's face was so familiar to me that I began racking my brain to figure out how I knew her (I've been in Europe and randomly bumped into friends before, so I really thought this was no different).  Then I heard her voice.  Her voice was so distinctive that I had to chuckle to myself. It was Vera Wang.  Yes, Vera Wang and her husband were spending the afternoon shopping in Clignancourt.  But I digress.
There are not enough hours in a day for me to explore all that Clignancourt has to offer, but you best believe I tried my best!  If I lived in Paris, I would be there every weekend for a few hours exploring, learning and building relationships with vendors (the Marché is only open on Saturdays, Sundays and Mondays).  My most wonderful find?  Une autre Brazil! (Another Brazil).  This one is carmel colored instead of Black, but she's just as versatile.
I have wonderful visual memories of Clignancourt, but I have to admit I was sooooooo excited to be there again that I forgot to take pictures.  I meant to.  I really really did.  But I didn't.  Yes, my camera was in my bag.  I just got caught up in the moment.  You'll have to go for yourself and experience the thrill that is Clignancourt!  Enjoy these pictures courtesy of Vogue.com.
And when you go to make sure you find everything you're looking for, take Keys to the Fleas with you.  Keys to the Fleas is a new iPhone App launched by Claudia Strasser, the voice behind The Paris Apartment.  The app is $1.99 and is an insider's guide for navigating the Paris flea markets – it includes maps, shippers, Métro stops, bus routes, hours and local haunts where you can kick back and admire your treasures over a café au lait!  I didn't get to use the app because it launched a few weeks after we got back, but you best believe I'll have it with me the next time I go to Paris! (Oh, and by the way, it's the first in a series of guides on the flea markets of the world – Morocco here I come!).
One more installment from my Adventures in Paris will hit your inboxes with pictures of some of my favorite places and things . . . À bientôt!