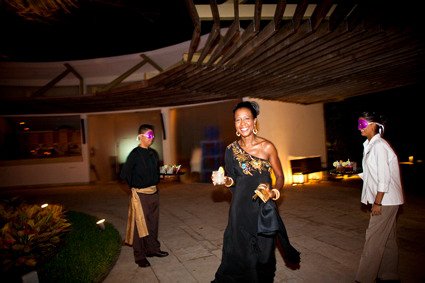 As Anna in The King and I sang, "[g]etting to know you, getting to know all about you  . . ."  So, what do you know about me?  You know that I love the color purple, I believe manners are supremely important and I am a formerly practicing lawyer. I send you snippets about STYLE weekly and through those snippets you might know a bit about my personal style, but unless you know me personally, my personal style may still be a mystery to you.  I thought it would be fun to give you some insight into me and my closet. In addition, over the next few months, I'll introduce you to some of my favorite STYListas. Let's get started.
Kalyn Johnson Lifestyle Blogger, Fashion Stylist and Lawyer
What I'm Wearing Now A Tibi dress that I bought last Fall.  I have a number of Tibi dresses that range from dressy to casual.  I really like the playfulness of Amy Smilovic's designs for Tibi – they're always interesting and unique. When I saw this dress it literally made my heart leap and that's how I knew I had to have it.  It's a bit dramatic and I've never been one to shy away from the spotlight.  One of my friends calls this my Diana Ross dress because of the way the sleeve drapes so spectaularly.  I have on my trusty YSL Tribute sandals in gold.  I thought about wearing black shoes, but I love the little hint of gold peeking out from the bottom of the dress.  I've been obsessed with India for as long as I can recall, the bangles are a tribute to that obession from jewelry designer Tejani.  My clutch is from TopShop and my pashmina is a Chinatown special.  I believe in pairing high-priced and low-priced items; if you can afford to pay top dollar for everything knock yourself out  . . . but if not, as long as you know which items to skimp on, you can as Tim Gunn says, "Make it work!"
Style Credo For me, it's all about buying things that make my heart leap! Whether those items are on trend or not.  I go with my instincts.  I'd say I'm a chic dresser, bordering on classic but there's always a twist!  I love a little bit of sparkle and I believe that accessories can make or break an outfit.
On Shopping I believe in buying quality items.  Of course, this is much easier to do as you get older and have a little bit more to spend.  Clothes are an investment; if you buy quality items they'll last over time as long as you take care of them (and keep in shape!).
Favorite Things in My Closet Right now, my YSL Tribute sandals and my YSL Easy Bag.  I fall in love with certain designers every now and again.  Definitely my Cj Joy jeggings, a couple of really cool necklaces I got on the street in NoLita when my friend Donna was here visiting a few months ago, my Rachel Roy black wool dress, my Hermes Brazil scarf, my Kier+J heather grey crewneck cashmere sweater, my fox fur coat with 3/4 length sleeves, my Acne butterfly wing black dress and my Saundra Messinger diamond leather bracelet.