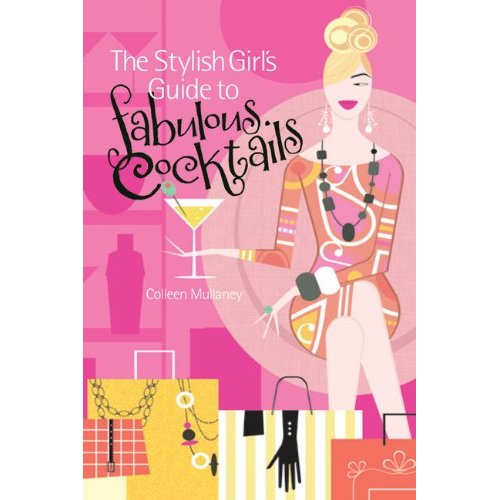 Heed the Call and Celebrate Stylishly!
Colleen Mullaney, a.k.a. The Cocktail Diva, lives by this credo.  Her latest book on libations, The Stylish Girl's Guide to Fabulous Cocktails, is the perfect accompaniment to any celebration whether you're throwing a swanky soiree, having a "girl's night in" or hosting an intimate dinner party.  With over 80 recipes, you'll never be at a loss for what to serve when and to whom. Each chapter focuses on a different spirit; Colleen likens different spirits and their unique characteristics to different articles of clothing and their distinctive personalities. The evening gown of the cocktail world? Champagne. A great pair of jeans that will never let you down? Wine.
Now I must admit, I love a good cocktail.  I am definitely a cocktail girl through and through.  And just like Carrie, my cocktail adventure began with the advent of the Cosmopolitan. Over the course of time, my palate has changed a bit . . . Today my poison of choice is bourbon, but I'm a self-proclaimed mixologist and I swear, I can mix up just about anything your heart desires, including a mean mocktail! Even so, Colleen's cocktail book has some amazing recipes that I will definitely be adding to my repertoire.
Believe it or not, the first known publication of a cocktail guide was in 1862. Almost 150 years later, The Stylish Girl's Guide to Fabulous Cocktails carries on the tradition superbly.  It's a must-have for any hostess with the mostess!
So, although it's Monday morning, it's 5 o'clock somewhere, right? Here's to you – I'm raising my virtual Mint Julep – and all of those wonderful life moments you'll be celebrating stylishly.