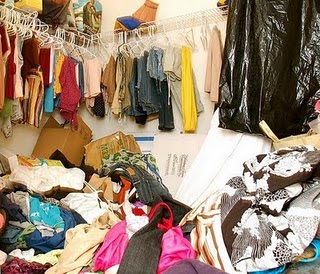 Is your closet overflowing?  To some extent, we all have overflowing closets. Hopefully, your chaos is a little more organized than the closet pictured above.  By overflowing, I really mean do you just have too much stuff in your closet no matter how well organized it is?  Is your closet easy to navigate?  What if you needed a friend, or your spouse, to go through your closet to pack an overnight bag for you? Would he or she be able to find what you asked for easily?  Or, would it be like sending them into a labyrnith?  If it's the latter, you're not alone.
Believe it or not, cleaning out your closet is cathartic once you do it.  The process of culling is sometimes painful, but the end result makes the process worthwhile.  It feels great to get rid of things that no longer fit or things that you thought you were going to wear and you just never did.  It happens to the best of us.  Donating gently worn or used items is a win-win for all involved; one woman's discards are another's gold mine.
But, do you have some items that while you're willing to part with, you'd feel better about letting go of if you could recoup a portion of your investment?  If so, you're not alone.  Have you noticed the proliferation of consignment shops in the past few years?  Hello! Ebay.  Consignment shops are all over the place from virtual shops online to brick and mortar storefronts in some of the ritzier parts of town.
Consignment shops are second-hand stores that offer used goods at a lower cost than new. Many offer new items as well.   Typically, the consignment shop owner (seller) pays the consignor (you, the person who owns the item) a portion of the proceeds from the sale. Payment is not made until and unless the item actually sells. The consignor retains title to the item at all times, and can end the arrangement at any time by requesting return of the item. A specified period of time is commonly arranged, after which time if the item does not sell the owner can reclaim the item (or, if not reclaimed within a period of time, the seller can dispose of the item at his discretion).
If you decide to consign, pay close attention to the terms of consignment. Some shops take as much as 50% of the proceeds, while others will let you set your price and then add their percentage on top of your number to insure they get the commission they're seeking.  The general rule of thumb seems to be a 60%-40% split – you get 60% and the seller get's 40% (sometimes you can get as much as 70%).  Unfair?  No, not really. Yes, you own the item but the seller is the one working to get it sold.
I've done my fair share of consigning, but I must admit, I've gotten lazy. Finding the right shop, setting up the appointment to show the shop owner my goods, schlepping my goods to the shop (in New York traveling with more than just your tote bag is often more than a notion!), etc – these are things I no longer have much interest in doing unless I'm consigning something I paid a lot of money for.  So, what's a girl to do?  That's what I was trying to figure out last January during one of my seasonal closet cleanouts.  To the rescue? Julia's Overflowing Closet. Now, in the interest of full disclosure, Julia is a good friend of mine from college.  In an hour-long catch-up last January, Julia told me about a new business she'd started – an online consignment shop.  Kismet or what??!?!?
All I had to do was ship my clothes to her; she'd reimburse me for the shipping, and send me a check once my items sold. She explained that she pays for all fees associated with selling the item, she researches the item to determine the selling price, and she writes the description and takes pictures for the listing.  When the item sells, she ships it to the buyer.  To be honest, I've definitely thought about selling stuff on ebay, but I haven't taken the steps to do it because there seem to be a lot of them.  Julia's Overflowing Closet has been a godsend for me; it could be for you too.
If you'd like to learn more about Julia's Overflowing Closet, please feel free to contact Julia directly.
Happy Consigning$$! Ca-ching!