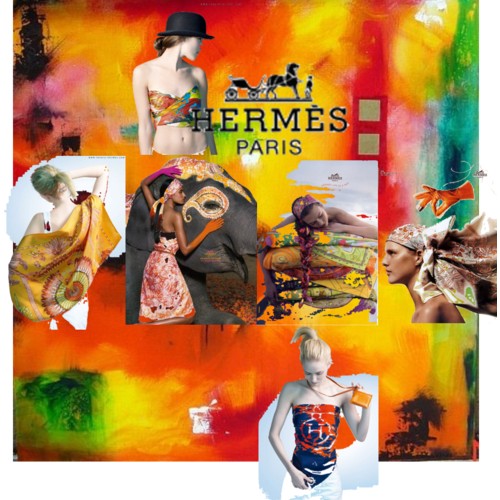 How do I love thee? Let me count the ways:
Perfect for bad hair days
Keeps my neck warm on the plane, in the subway and in over airconditioned rooms
Looks fab tied on the handle of some of my handbags
Protects my tresses from the elements and
Acts as a shawl in a pinch
My friend Karla introduced me to the virtues of owning an Hermès scarf, or scarves if you're lucky, in 1991.  Yes, it's been a love affair of almost 20 years.  I was a bit younger then and I confess that the idea of paying an arm&leg for a scarf that seemed somewhat old ladyish wasn't my idea of high fashion.  But, then I saw how versatile the scarf was – Karla wore it around her neck, her waist, in her hair – and Elaine from Seinfeld even had one hung on her apartment wall.  I couldn't afford one on my graduate school stipend, but I resolved to get one once I had a real salary.  Fast forward another graduate degree and 11 years.  My sister and I were in Paris shopping at Clingnancourt – one of the most wonderful flea markets I have ever been to – when I saw it, "Brazil".  Black silk with pops of gold, green, brown and white.  It was second-hand, but authentic.  I dithered for a moment and then plunked down my francs; my life hasnt been the same ever since.  For the past 9 years I have collected Hermès scarves and worn one almost daily (my neck gets cold easily, so Summer, Winter, Spring or Fall at some point in time during the day my neck is wrapped up).  I've got them in a rainbow of colors with some of the most beautiful patterns created by designers from all over the world for the venerable house in France, but my favorite scarf is "Brazil".  I don't leave home without it. No matter how small my bag is, Brazil is with me.  Just like the Teddy that received a little bit too much love, Brazil was starting to look a little hagard (a spill of suntan lotion notwithstanding, the magicians at Chris French Cleaners worked their wonders on that one); I recently discovered a hole in it along one of the folds where the silk twill fibers have separated.  I was devestated initially.  Then shocked.  What have I done?!!? How could I be so careless?
I dropped Brazil off at the Hermès store on Madison Avenue a few weeks ago. Suzy, the Assistant Manager, was so nice and kind to me.  She completely understood my devastation and indulged my concerns as she wrote up my repair ticket.  Brazil is in bad shape.  I discovered another hole while showing Suzy my scarf.  So fingers crossed, the folks at Hallak Dry Cleaners (Suzy swears by them) will be able to resuscitate my baby.
Believe it or not, from time-to-time, Hermès re-issues scarves and as luck would have it, Brazil was re-issued Spring 2009 (it's the yellow scarf in the far left panel – pretty funky, no?).  The black version has pops of purple, red, yellow, green and orange.  It's really pretty, but it's not my Brazil.  Each scarf has a history behind it's creation; Brazil was designed by Laurence Bourthoumieux.
For the uninitiated, a little background information on the House of Hermès.  Originally, Hermès made harnesses and saddles for a privileged clientele but with Henry Ford's invention of the automobile horse-power went by the wayside.  So, he applied a bit of ingenuity and began to add a line of luxury items to his inventory – boots, luggage, jewelry, home decor items, and watches.  The first scarf square to accompany the Hermès collection was produced in 1928, inspired by that worn by Napolean's soldiers. To be 'of its time', the scarf was printed with the names of cars. It was a big success; eleven years later a factory for scarf production was opened in Lyon.
Each design requires:
nine to twelve months of research and development;
fifty-odd designers;
ideas drawn from all styles and genres; and
contributions from artists from all over the world, famous and not so famous.
It takes six to eight weeks to prepare as many silk-screen printing frames as there are colours in particular scarf. For instance, in 1994, the "Celebrations of the Sun-King" required 1,200 hours of work to make its 35 frames.  The printers prepare their pigments to make a palette of tonnes of printing inks. Then, the Brazilian silk is spread out on heated tables 150 metres long. This allows a batch of 100 squares, comprising forty colours, to be printed. After printing, seamstresses roll and stitch the hem of a square, by hand, in 30 to 45 minutes. The Lyonnaise factory can produce 40,000 scarves in a week. Every year, there are two collections, each consisting of a dozen designs, of which four to six are classics with the colours updated.  Hence, the re-issue of Brazil last year.
Nora Ephron said she feels bad about her neck, I don't and I hope I never will thanks to Brazil!  I'll keep you posted on Brazil's condition when I get her back.  Finger's crossed, she'll be as good as new.
[images courtesy of
Hermès
]