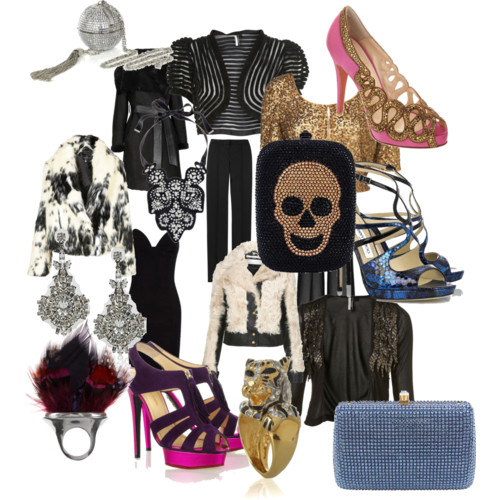 Is your calendar literally filled with engagements from now until the beginning of the year?  In addition to coming up with a stash of hostess gifts, you've got to figure out what you're going to wear to each holiday dinner party, office party, drinks with friends, tree trimming party and of course to the big events themselves.  Godforbid if you've got a formal or two to go to as well!
There's no time like the present to start recycling the goodies you've got stashed away in your closet.  Now, if you're related to the Rockerfellers and can afford to go out and buy a few key pieces to spice up your holiday wardrobe, by all means please do and just pass this posting along to one of your less well-off friends!  If however, you're trying to figure out how to do it all (holiday travel, shopping and party-going) with limited funds, here are some tips for looking your best this season without breaking the bank.  It's simple, Shop In Your Closet (or your friend's if yours is low on sparkly items). It's all about looking like you spent a fortune when you haven't spent a dime.
Dressing for the Holidays a la Your Closet:
Locate the following items and put them on your bed: (1) LBD; (2) Black wool slacks; (3) Black cardigan; (4) Black turtleneck.
Go through your shawls and pull out the black one of course and any festive looking shawls you may have. Put these on the bed too.
Now, pull out the jewelry box and locate your most sparkly items – necklaces, cocktail rings, bracelets – everything that's too much for work, you know those pieces you've been saving for the right moment or the ones that someone gave you and you just weren't sure what to wear them with. Lay the pieces on your bed.
Go through your stash of clutch bags and pull out the black one and any sparkly ones you have. These go on the bed too.
The same goes for your heels – pull out your black dressy heels (peu de soie is fine, the everyday work ones are not) and any glammy shiny heels you own (the more color, sparkle, sequins or feathers the better!). Yup, on the floor next to the bed.
Now, go back to your basics listed in the first bullet point and begin to mix and match your outfits.  Nothing needs to be matchy-matchy.  Your foundation is basic black which is sleek, slimming and sophisticated.  Your accessories regardless of how you combine them will dress up your basics and help to get you in the holiday spirit.  And remember, it's the holidays so it's ok to go a little over the top.
Once you've matched your outfits, think about what you are going to wear to which events so that the day or evening of you've got nothing to do but make sure the items are clean and get dressed.
Finishing touches – If time permits, and your budget allows, stop by H&M, Ann Taylor, Aldo, Forever21, JCrew, TopShop, Claire's or some other such store and buy a sparkly headband, hair clip or a fun feather number just to take things to the next level.
Top it all off with your regular wool coat (this is where one of those colorful shawls can be helpful in transforming your everyday coat to a little bit something more) or if you've got a fur or a fun fur (whichever is your preference) now is the time to show us what you got!
Have fun this holiday season!  Eat, drink and be merry.